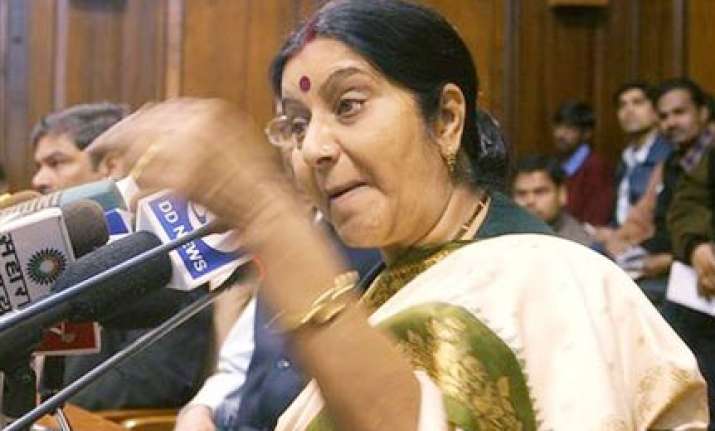 Vadodara, Oct 5 : BJP leader Sushma Swaraj today said time has come for an amicable solution to the Ayodhya issue in the light of the Allahabad High Court verdict in the title suits and welcomed the move by the oldest litigant Mohammad Ansari to resolve the issue through talks.   "Time for an amicable solution has come," she told PTI favouring an out-of-court settlement to the decades-old dispute.  She welcomed Ansari's meeting with Mahant Gyan Das of Hanumanghari, who is also President of Akhil Bhartiya Akhara Parishad, to explore the possibility of an amicable solution.
Swaraj also hailed the statement of several Muslim leaders who criticised SP leader Mulayam Singh Yadav for his statements on the Ayodhya case.  On the Kashmir issue, she opposed any move to give autonomy, freedom or self rule in Jammu and Kashmir, saying efforts should be made towards scrapping Article 370 which gives special status to the state and initiating steps for further strengthening of bonds between Jammu and Kashmir and rest of the country.
"BJP has outrightly rejected all the three demands of azadi, self rule or autonomy raised by several separatists as Jammu and Kashmir is an integral part of India," she said criticising Home Minister P Chidambaram's statement on the issue.
Welcoming the Centre's 8-point initiative on Kashmir, Swaraj said, "It has created a positive impact."
Opposing the demand for lifting of the Armed Forces Special Powers Act (AFPSA) from Jammu and Kashmir, she said, "Legal protection is a must for the troops and CRPF to efficiently perform their tasks."  "There should be no dilution in the Act," she said.
On the exclusion of Gujarat Chief Minister Narendra Modi from the list of star campaigners for the BJP in Bihar Assembly poll, Swaraj said, "Modi is a very big leader and continues to be a star campaigner. His omission from the list for campaigning in Bihar, does not affect his image."  The Allahabad High Court had ruled by a majority verdict that the disputed land in Ayodhya be divided equally into three parts among Hindus and Muslims and that the place where the makeshift temple of Lord Ram exists belongs to Hindus. PTI