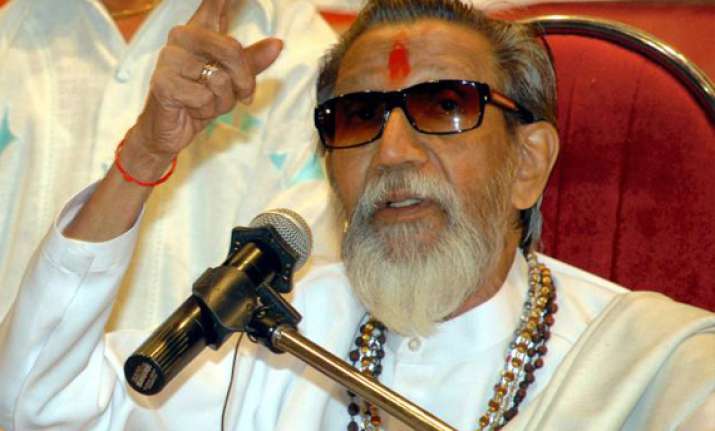 Mumbai, Nov 19:  Like President Pranab Mukherjee, the number 13 was Bal Thackeray's favourite number.
86-year-old Thackeray, who died on Saturday, got married on June 13, 1948, and launched his cartoon weekly 'Marmik' on August 13, 1960.
This nugget of information finds mention in an upcoming book "Bal Thackeray: Rise of Shiv Sena" by a Mumbai journalist Vaibhav Purandare.
Though no believer in numerology, the Shiv Sena supremo liked numbers to add up to 9, the book said, adding by a coincidence, he died at 3.33 pm, a number that adds up to his lucky one.
The book also mentioned that Thackeray quit a Mumbai newspaper where he was employed as a cartoonist thrice.
The first time, because he was asked to sit next to the telephone, which buzzed all the time and disturbed his concentration.
The reason for which the firebrand leader quit the second time was because his freedom of expression was "muzzled" as he was asked to avoid drawing cartoons on "holy cows" such as S K Patil and Minoo Masani, the book said.
Patil, a Congressman, was an uncrowned king of Mumbai before Thackeray himself acquired that epithet.
The third time Thackeray quit was because he and a group of journalists from the newspaper decided to get together and launch a daily.
The book mentions that Thackeray's fondness for warm beer was well-known but said he was equally fond of his cigars.
When Sharad Pawar visited him in a hospital, Thackeray told him, with trademark humour, "My girlfriend is not with me." By girlfriend, he meant the cigar. The Shiv Sena boss was forced to give up smoking for a while because of illness.
A proponent of hardline Hindutva, Thackeray had a Muslim for a doctor. He placed total faith in Dr Jalil Parkar from Mumbai's Lilavati hospital, and the doctor's prescriptions helped bring Thackeray's chronic lung ailment under control for more than five years, the book said.
According to the book, Dr Parkar says Thackeray was among the "kindest men" he had known, "a nature lover who was full of life."
After he started getting complaints from Marathi-speaking people about "injustices" done to them in Mumbai, Thackeray, in 1963, started reproducing names of non-Marathi speaking people from Mumbai's telephone directories(such as the Shahs, Patels and Nairs) in order to highlight the numerical and economic strength of the non-Maharashtrian population in the western metropolis, it said.