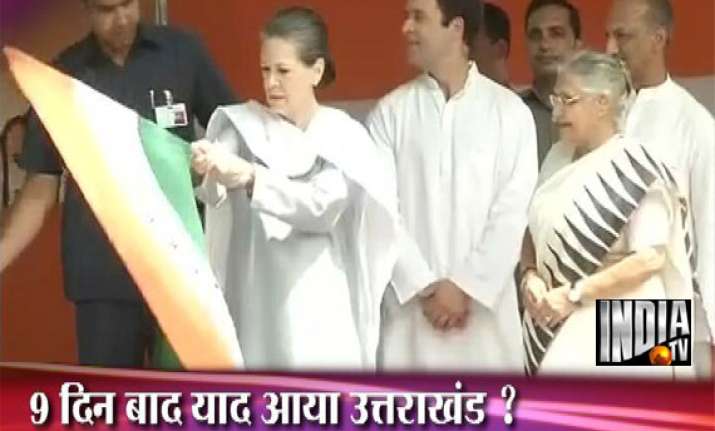 New Delhi, June 24: Congress President Sonia Gandhi and party Vice President Rahul Gandhi today flagged off relief material for the victims of flash floods in Uttarakhand.
Top Congress leaders were present at the AICC headquarters where Gandhi and her son Rahul flagged off 24 truckloads of relief supplies in addition to the 125 trucks already sent to Dehradun.
Besides the Gandhis, leaders present on the occasion included Delhi Chief Minister Sheila Dikshit, Finance Minister P Chidambaram, Road Transport Minister Oscar Fernandes and, political secretary to Congress President Ahmed Patel, AICC General Secretaries Ambika Soni and Ajay Maken.  
This was Rahul Gandhi's first appearance since the natural calamity struck Uttarkhand as he was abroad.  
AICC treasurer Motilal Vora and AICC general secretary and in-charge of Congress President's Office Ambika Soni had visited Uttarakhand to oversee relief operations and coordinate with state Congress units which have been sending relief materials.
Congress has set up a control room at Dehradun to accelerate the relief work. AICC Secretary Sanjay Kapoor and the party's wing Seva Dal's chief Mahendra Joshi have already been sent to Dehradun to monitor the work.
Soni, who was in Dehradun yesterday to coordinate AICC relief measures, said the Congress President wanted relief efforts to continue till it reached every person affected by the tragedy.
Delhi Chief Minister Sheila Dikshit said that the relief material flagged off today were part of initial efforts.  
"Trucks carrying relief material will continue to be sent," she said, adding that the Congress leadership was in touch with Uttarakhand Chief Minister Vijay Bahuguna to coordinate relief measures.
Opposition had questioned Rahul Gandhi's absence in the time of the natural calamity and Congress spokespersons had also faced tough questions on the whereabouts of their leader.  Maharashtra Chief Minister Prithviraj Chavan was scheduled to visit Uttarakhand today. He had to call off his visit yesterday due to inclement weather.
Gujarat Chief Minister Narendra Modi had on Saturday conducted aerial survey of the affected areas in Uttarakhand and coordinated relief efforts to ensure evacuation of Gujarati pilgrims stranded in the mountainous regions.