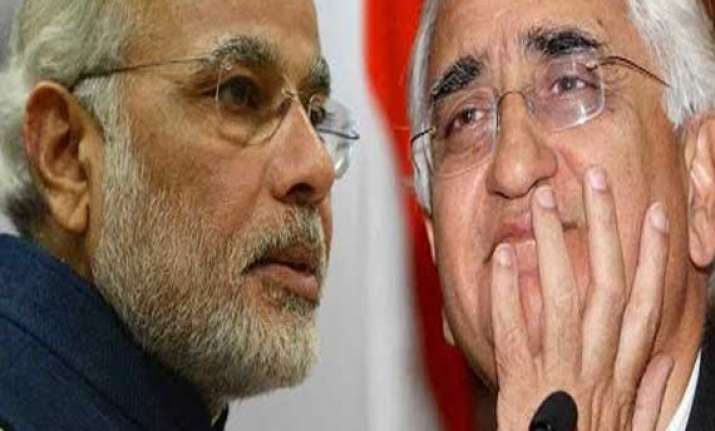 New Delhi: Kicking up a fresh controversy, Union Minister Salman Khurshid has compared Narendra Modi to a "nursery child" over claims he has been given a "clean chit" by a lower court in 2002 Gujarat riots.
Khurshid, a senior Congress leader and a sitting MP from Farukkhabad, targeted the BJP Prime Ministerial candidate again, days after he triggered a major row, calling Modi "impotent" for not being able to stop the post-Godhra riots.
"I don't know who has given Modi a clean chit. A magistrate's court has not summoned him. It is true. It's like a nursery child getting a good grade and thinking that he has become a doctor and goes around claiming to be a PhD. How can that happen?" Khurshid told reporters here yesterday in reply to a question.
The External Affairs Minister's comments came two days after Rahul Gandhi dismissed the talk of a clean chit to the Gujarat Chief Minister.
Rahul Gandhi on Sunday demanded "legal accountability" for the "clear and inexcusable failure" of governance during the Gujarat riots and dismissed talk of clean chit to Modi as "politically expedient" but "far too premature". Modi and BJP leaders have claimed that the verdict by an Ahmedabad court in a 2002 riots case was a "clean chit" for him.
Khurshid also said, "In Gujarat, the incidents that happened when he (Modi) was Chief Minister, around 170 people have been given life imprisonment in connection with that. Maya Kodnani was his minister."
The BJP slammed Khurshid for his remarks against Modi, calling it "rubbish".
"What Salman Khurshid is saying needs to be rubbished, is rubbish because he is denigrating the court. What is lower and higher judiciary?" BJP spokesperson Prakash Javadekar said.
"Court is court and the matter was before the court and the court has given a clean chit. The SIT appointed by the Supreme Court has given a clean chit. Still they want to rake up only 2002 (riots).
"This is what Rahul Gandhi is doing, this is what is echoed by Salman Khurshid and other Congress leaders. This is what is being done by Aam Aadmi Party," he added.
On the controversy over a claim that WikiLeaks founder Julian Assange endorsed Modi as "incorruptible", he said, "I don't understand that someone who is so confident, why does he need to go around seeking support to establish his dominance. I am surprised."