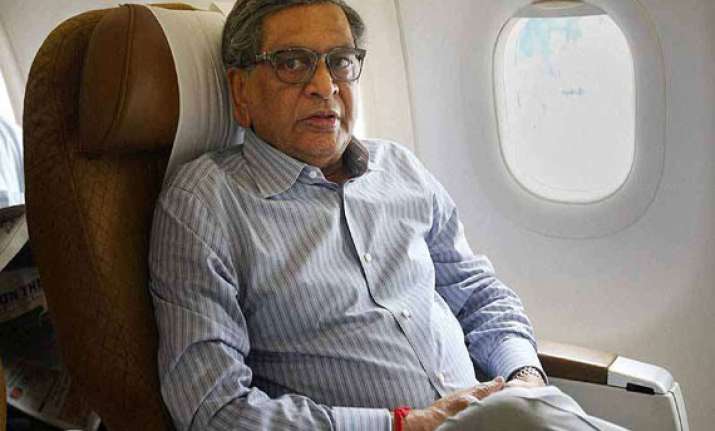 Bangalore: Senior Congress leader and former Karnataka Chief Minister S M Krishna heaped praise on the RSS and said that there was much to learn from BJP's ideological mentor.
According to the ANI, Krishna said, "Everyone in the RSS speak(s) in one voice and we can learn from them. RSS take their candidate themselves to the polling booth, Congress doesn't."
Dismissing any "Modi wave", the 82 year old leader said it was a propaganda by "vested interests" and took a jibe at the BJP Prime Ministerial candidate for "sidelining" senior leaders.
"We have seen those (Indira Gandhi and Rajiv Gandhi) waves. They were natural waves which emanated from the hearts of people ... But here the wave which has been created by vested interests is only to be talked and written about, but on the ground we do not see any wave (of Modi)," he told reporters.
Asked why Congress was delaying announcing its candidate against Modi from Varanasi if there was no "Modi wave", he said it would decide on it and there was plenty of time.
"Congress will announce the candidate. According to the calendar of events, Karnataka elections are going to held in the earlier phase and elections in Uttar Pradesh are going to be held at later phase, so there is plenty of time," the former Minister for External Affairs said before his roadshow in support of his party candidates in Bangalore.
He also alleged that lands of farmers had been given to companies like Adani at "questionable price".
"The kind of land dealings in Gujarat, they are just mindboggling. Thousands of acres of land have been given away to Adani and other one or two industrial hubs ... It is the price which when you are going through it, you just feel sorry for the farmers of Gujarat," he charged.
Asked whether Congress is in good position to capitalise on differences in the top BJP leadership, Krishna said, "That will be known on May 16 (counting day)."