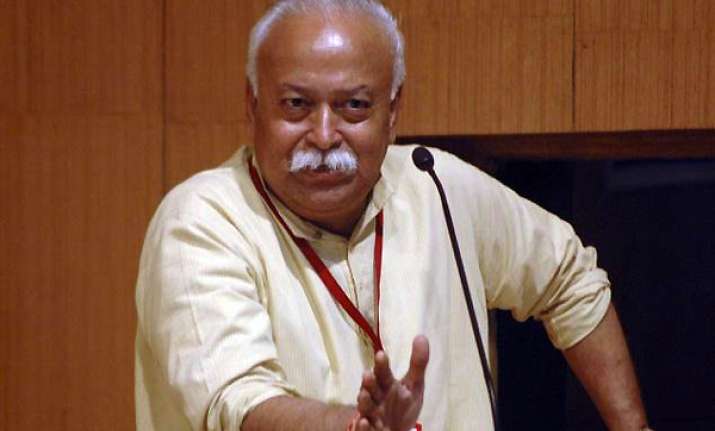 Patna, Feb 6: Warning that the nation's sovereignty was at stake due to external and internal threats, the RSS on Sunday asked the government to put in place a security infrastructure and intelligence system to address all issues in a coordinated manner.

"Desh mein suraksha ka sankat paida ho haya...sanskar se lekar desh ki seema tak videshi guspaith ho raha hai" (there is a threat to the national security due to foreign invasion from our culture to borders), RSS chief Mohan Bhagwat told reporters here.

"There is a serious threat to the national border from China and Pakistan, even as terrorism, naxalism and economic issues like the FDI in retail sector pose other challenges. So much so that our national sovereignty is endangered," he said.

"The government should put in place security infrastructure and intelligence system to sternly deal with external threats to the national borders from China and Pakistan and internal threats from terrosists and naxalites," Bhagwat said.

The RSS leader warned that if institutions failed to deliver the goods, then people may resort to revolution to decide their destiny.

Bhagwat also rapped the Centre for opening up retail sector for FDI despite stiff opposition from society.

He took a swipe at Gandhian leader Anna Hazare for his stoic silence in accepting the fact that the Sangh workers took active part in the latter's nationwide agitation against corruption last year.

"It is a fact that the Sangh workers in individual capacity did play an active role in the anti-corruption crusade by the civil society headed by Hazare...it baffles me as to why the former did not acknowledge the fact," he said.

However, Bhagwat admitted that the RSS was not consulted by Hazare on crusade against corruption though the Sangh shared a common view with the civil society on eradication of the scourge.

On the perception that BJP chief Nitin Gadkari was foisted by the Sangh parivar as part of a clean-up operation following the party's debacle in 2009 parliamentary polls, he clarified it was the BJP leaders who had chosen Gadkari to replace Rajnath Singh and the Sangh had played the role of a facilitator.

The RSS chief also attacked critics trying to bring disrepute to the outfit by linking it with the emergence of the alleged 'Hindu terror network' following arrest of some Hindu leaders in connection with the Samjhauta Express and Malegaon blasts and said terrorism has no colour, creed or religion.

"There is no such thing as Hindu militants....prove the charges first before giving communal colour to terror cases accused," he said.

"Terrorism per se has no colour," Bhagwat said, adding there was no mantra of terrorism in the Sangh's principle of 'Hinduism'.