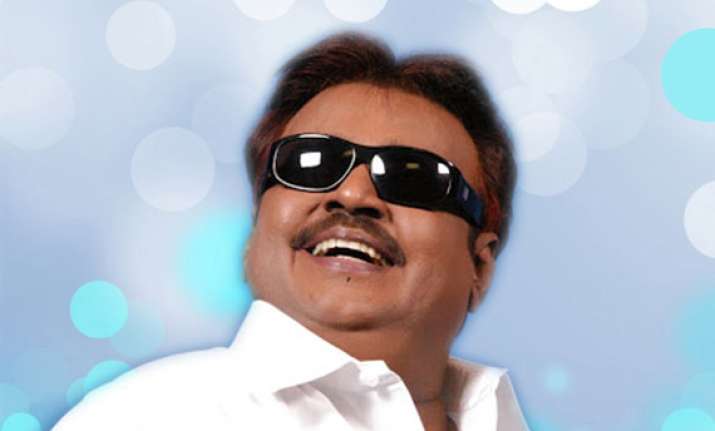 Chennai: Birthday wishes from Congress vice president Rahul Gandhi to DMDK founder and Opposition Leader Vijyakant on Sunday has set off speculations in the political circles in Tamil Nadu, about alliance between the two parties for the 2014 Lok Sabha polls.
While the Congress camp is elated, the followers of Vijayakant, affectionately called "Captain", don't want to jump the guns.
A senior DMDK leader said that "there is no politics" behind the Gandhi-Vijayakant conversation and said the young leader has reciprocated with the gesture.
He said Vijayakant had earlier spoken to Gandhi to wish him on the latter's birthday and the Congress leader had reciprocated to it.
He said it was too early to talk about alliance as his leader would take a call at the "right time".
The Congress, on the other hand, is 'elated,' believing Gandhi had set the ball rolling for a new tie-up as the party has rode piggyback on one of the Dravidian parties since its defeat in 1967 at the hands of a rising and resurgent DMK led by its founder, the late C N Annadurai.
"The Congress cadre is very enthusiastic. They are very happy and elated" over the development, party sources said.
Gandhi calling up 'Captain' should rejoice many a DMDK supporter as it comes in the backdrop of Vijayakant facing crisis in his own party with seven of his MLAs shifting loyalties to ruling AIADMK led by J Jayalalithaa.
DMDK has 29 MLAs in the 234-member Assembly including seven rebels, has secured seven per cent vote in the previous elections since its formation in 2005, while Congress has five legislators.