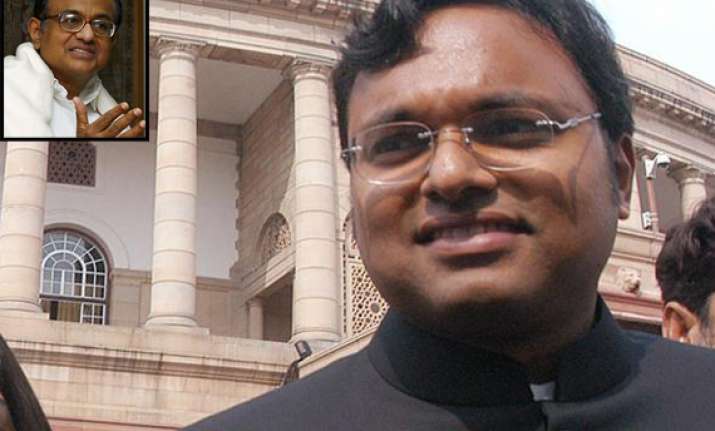 Chennai/New Delhi, Nov 2 : The internet blogs are agog with outcry from netizens over the arrest of an IAC activist Ravi Srinivasan, a  Puducherry-based businessman, for posting tweets against Karti Chidambaram,  the son of finance minister P Chidambaram.
While the Puducherry police sought custody, the judge granted him bail as it was a bailable offence.  
Srinivasan says, he will not apologize to Karti Chidambaram. The "offensive" tweet was : @ravi_the_indian: got reports that karthick chidambaram has amassed more wealth than vadra.
Srinivasan was  booked under section 66A of the Amended Information Technology Act, 2000, now known as the IT Act, 2008, that allows for the arrest of a person for sending out offensive messages electronically.  
Srinivasan was arrested for making accusations of corruption under this section on Tuesday and later released on bail.  
Srinivasan was arrested by the Puducherry police from his house in the early hours of Tuesday after being charged under Section 66-A of the Information Technology Act, 2008, based on a complaint filed by Karti. He was later released on bail.  
"Free speech is subject to reasonable restrictions. I have a right to seek constitutional/ legal remedies over defamatory/ scurrilous tweets," tweeted Karti on Wednesday.  
"I will not apologise," said Srinivasan. "I am only a small businessman and a volunteer of India Against Corruption. I have no political affiliations," he added.  
A person can be fined and imprisoned for three years for disseminating material that is "grossly offensive", has "menacing character" or is false with the aim of causing "annoyance, inconvenience, danger, obstruction, insult," among other related cyber crimes, under the section.  
Experts saiy the section is  "vast" and could be interpreted in various ways. The law mandates similar punishment for serious cyber crimes such as posting morphed, obscene pictures and for something that causes minor "anonyance", said Pranesh Prakash, programme manager at Bangalore-based research organization Centre for Internet and Society.  
"The law has to be more specific in its definition of what is offensive."  
Section 66A tends to impose restrictions that go beyond resonable curbs under Article 19 of the Constitution, which provides for freedom of speech and expression, said Pavan Duggal, a cyber law expert.  
"No doubt that this section is a potent tool in the hands of powerful to silence criticism against them." 
Earlier, in West Bengal, chief minister Mamata Banerjee had cracked the whip when a left-leaning Jadavpur University professor Ambikesh Mahapatra was arrested in April for forwarding by email cartoons on the lady politician.  
Mahapatra was charged under section 66A of the IT Act, apart from section 500 (defamation), section 509 (insulting the modesty of a woman through word, gesture or act) and section 114 (presence of abettor at the time of commission of offence). 
The laws of libel and defamation that apply to print and television also apply to the Internet and social media.  
However, recently section 66A has also been added to complaints alongside sections relating to defamation and other offences.  
A cognizable offence is a criminal offence for which the police is empowered to register an initial complaint, investigate, and arrest a person without a warrant from court.  
Section 66A is being added for greater impact because defamation is a non-cognizable offence, according to Prakash. 
Similarly, in September, IAC activist-cartoonist Aseem Trivedi was arrested for posting cartoons allegedly offensive to national symbols.  His cartoon showed the Ashoka emblem as consisting of three wolves in place of lions.  
He was charged under section 66A apart from section 124A of the Indian Penal Code, section 1860 (sedition) and the Prevention of Insults of National Honour Act, 1971.  
Experts said such incidents are bound to rise.  
"This law is liable to be abused," Duggal said. "There have to be clarifications and wide definitions terming what is offensive."  
A government officialexplained that section 66A was introduced to avoid circulation of morphed images, spam email and any other material that could annoy or offend.  
On it being cognizable, he said the law, charges under which are bailable, can be used as well as misused and the court has the final word on deciding what is offensive and what is not.