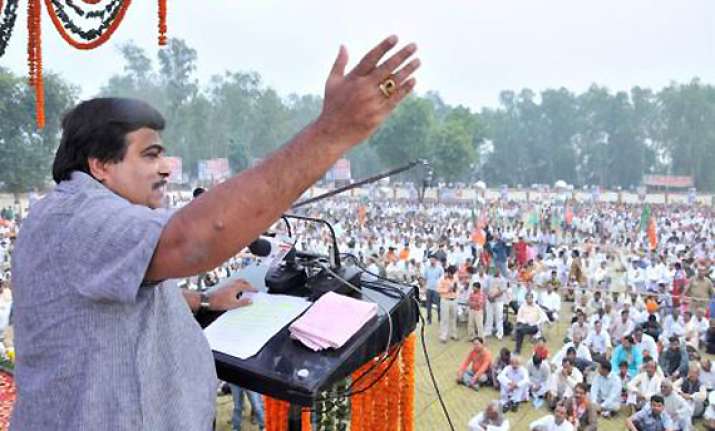 Moradabad, Mar 1: BJP president Nitin Gadkari today said his party will not enter into alliance with any political party to form government in Uttar Pradesh.

"Except BJP, every party is indulging in corruption. So we will neither accept any alliance nor support any party in direct or indirect way," Gadkari said while addressing a rally at Ram Lila ground here.

Criticising the ruling BSP government, Gadkari said that it was a "wholesale shop of corruption". "BSP is a wholesale shop of corruption," he said.

He also criticised the state government saying that, "its silence on the reservation issue was a manifestation of its close proximity to Congress and Samajwadi Party."

He also termed RLD leader Ajit Singh as a "kali pili taxi" that "any one car hire him for short term benefits".

In his attempt to please Muslims, Gadkari said that his party was never against the community but was against "reservation on religious line".

"BJP is not anti-Muslim, but on the name of religion the reservation is not acceptable," he said.

He criticised the recent Congress' move of carving out reservation for minority community. "The move of Congress is an unconstitutional step," he said.

He also said, "I am also astonished over the SP's demand of extension the quota to up to 18 per cent to the community."

A constitutional amendment is needed for the same and neither Congress nor SP have the majority to get the bill passed, Gadkari said.

"Muslim reservation will curtail the rights of other backward classes," he claimed.

Gadkari also criticised the Union Law Minister's reported comment on Batala house encounter.

Khurshid was recently landed in a controversy after stating at a campaign rally in Uttar Pradesh that pictures of Batla House encounter "brought tears" in the eyes of Congress chief Sonia Gandhi.

However, later, he said that he was misquoted.

Two Indian Mujahideen terrorists and a Delhi police inspector were killed in the encounter on September 19, 2008 at Batla House in New Delhi.

Sonia Gandhi expressed her sorrow on the death of terrorists, while she did not utter a word on the martyr inspector, Gadkari said.

He claimed that unlike Congress, BJP is a democratic party and any worker can reach to the top echelons through hard work and dedication.

"I am a example of the BJP's democratic setup," he said.

BJP' state unit president Surya Pratap Shahi was also present in the rally.

Meanwhile, speaking in Rampur, the BJP president said his party would get a "comfortable majority".

"We will form a government without support of any party," he said while addressing a gathering in Bilaspur town of the district.

Flaying the BSP government in Uttar Pradseh, Gadkari said, "electorate of the UP is fully aware of the criminal and corrupt practises of the ruling government and they are determined to overthrow it."

"While the SP was a show of bap-beta (father-son duo), whereas Congress has nursed the theory of putting the maa-beta at the top," he said.

If SP comes to power it will be "neta dhani aur janta nirdhan" (leader prosperous while proletariat pauper), Gadkari said.

BJP leader Mukhtar Abbas Naqvi said that the Centre should refrain from imposing President's rule in case post-poll scenario in the state was not clear.

If Congress imposes President's rule "that would be the last nail in its coffin", he said.