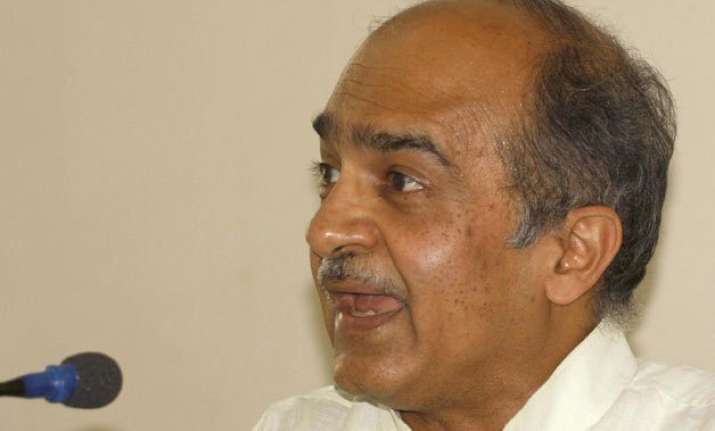 New Delhi: Senior Aam Aadmi Party (AAP) leader Prashant Bhushan has said that he is disappointed with ongoing internal rift within the party involving his name and that pro-Arvind Kejriwal camp compromised on party ethics on several occasion.
In an interview to Times of India, the AAP leader claimed that the accusations against him are just a ploy to divert attention from the real issues.
He, however, said that the issue is not about a personality clash but it is about party not adhering to principles for which it was founded.
ALSO READ: Prashant, Yogendra may be out of PAC today
"Yes, I am disappointed because it's not an issue of personality or whether who should remain in the political affairs committee or national executive. These concern basic principles of accountability,
transparency and Swaraj that the party was founded on," he told Times of India.
When asked about his unhappiness over party indulging in one-person centric campaigns ahead of the Delhi polls, he said, "I told Arvind that you have some remarkable qualities but you have some weaknesses....and you may be wrong sometimes. I said we must set up such systems that it's not your writ that should prevail in decision-making. On some issues of principles, I put my foot down. I feel we have to be absolutely firm on our ethical principles but Arvind differs at times and says we need to make certain compromises in politics."
ALSO READ: Have no issues over Kejriwal as National Convenor: Yadav
Bhushan further rubbished Ashish Khetan's claimed that Bhushans want to control party affairs and want to make it a one-family party. Khetan is the vice chairman of the Delhi Dialogue Commission (DDC).
"These are ridiculous statements. I have never asked for anything, nor has my father. My sister left a lucrative job to help put systems in place but only as an advisor for organizational development. My father has always wanted that the party remains on the ideals it was formed with. He has some opinions that are best known to him but I have time and again differed on them," he said.
Differences between Kejriwal and senior party leaders like Prashant Bhushan, Shanti Bhushan and Yogendra Yadav are out in the open for quite some time now.
On support AVAM, a breakaway volunteer group, he said, "This is absurd."
ALSO READ: Kejriwal to skip AAP National Executive meet
He also claimed that as chairman of the disciplinary committee, he recommended a probe into the SMSes but Arvind was against any investigation.
Bhushan also made it clear that he is not interested in any position whether it is of Political Affairs Committee (PAC) or National Executive.
Sources said that the majority in the 21-member National Executive, which meets today, have favoured ousting Bhushan and Yogendra Yadav from the nine-member, decision-making PAC.