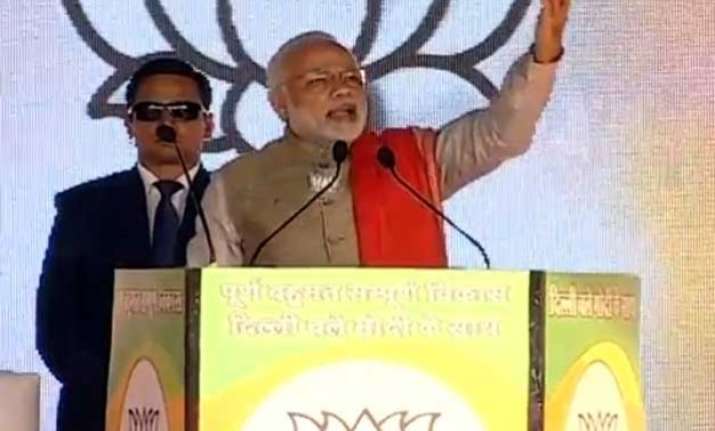 New Delhi: Prime  Minister Narendra Modi today addressed an election rally at CBD grounds near Karkardooma in East Delhi .
Here are the major highlights of  Modi's rally:
Modi:If you want Delhi to be applauded then form a full majority government under the leadership of Kiran Bedi.
Modi:Today when someone shakes hands with Modi and looks into his eyes, they don't see Modi, but the reflection of the Indian populace.Had Obama come to Delhi only as Chief Guest & nothing worthwhile would have happened, our critiques would have willfully condemned me.
Modi: I am surprised at what our opponents are saying about Obama's visit. Today India is being applauded all across the world. What is the reason. Modi is not the reason. The world is looking at India because you have formed a govt with full majority after 30 long years.
Modi: We are a young nation with 65% of population below 35 years of age.We can change not only India but the entire world. That's why we have launched the 'Make In India' campaign.
Modi:By the time we celebrate the 75th year of independent India, we will ensure that all slums are replaced by cemented houses. Ours is a govt of the poor, and is dedicated wholeheartedly to the poor
Modi:Both Delhi and Haryana were ruled by Congress, but still the people of Delhi were bothered about problems of drinking water. When BJP came to power in Haryana, CM took effective steps to give water to Delhi
Modi: Last time, we fought elections under Dr Harsh Vardhan and the BJP emerged as the single largest party but we did not have the numbers to form the government. We could have indulged in horse trading but we decided against it.
Modi:You must check the track record of those who are making tall promises. A year ago the people of Delhi voted with some dreams, but those very people betrayed you and it led to instability. You can fool someone, but only once.
Modi:There is one party that created a world record of losing deposits still they are not desisting from misleading people.
Modi:I have come to reinstate Delhi and fix the damage that was caused in the last 15 years.
Modi: I would not have come to Delhi, had you not given me all 7 MPs. I have come to Delhi not just to rule at the centre, but to serve you and work with equal force.
Modi: This time around Krishnanagar will give Delhi its new Chief Minister. This election will set a view of India in front of the entire world
Amit Shah: Kejriwal and Company are terrified of Kiran Bedi's record of fighting against crime and corruption.
Amit Shah: During his 49-days rule, Kejriwal did not keep any of the promises he had made during election campaign. He had said he would never join join hands with Congress but he did. He said he will file case against Sheila Dikshit but he didn't. He had said he was against VIP culture but he ordered SUVs for himself and his ministers. He got a big bungalow allotted for himself which he has not vacated till this date. Not only this, he had promised to the people o Varanasi that irrespective of election results he will keep visiting the city but has not bothered to visit Kashi after losing elections. How can you trust him?
Amit Shah- Rahul gandhi says things remain the same the borders, firing is still taking place. He can't see the difference because he wears Italian glasses.Now the security forces are free to retaliate. They don't have to take permission to defend the nation.
Kiran Bedi- In my first three days as CM,I will retrain and deploy civil defense and home guards for women security
Kiran Bedi- The way PM hosts 'Man ki baat', the CM will have 'Dil ki baat' every month
Kiran Bedi- Jaha Jhuggi, Wahi Makan. We'll ensure that all jhuggis are converted into concrete houses.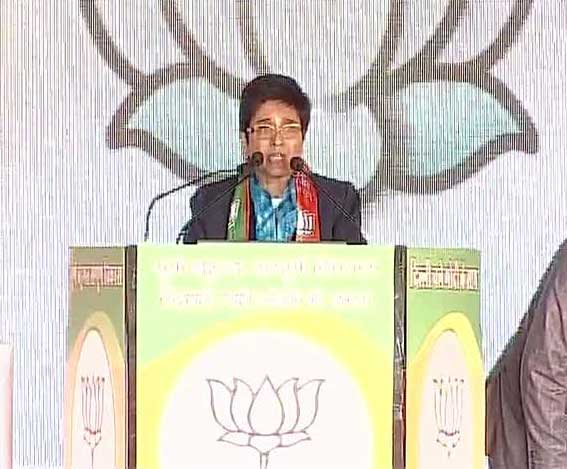 Kiran Bedi- I have 40 years of experience. Woman security will be my priority. I will not complain that Delhi Police is not with stae govt. I will get the work done from them even under present circumstances.
Kiran Bedi- We are 4 sisters;had my parents been alive they would have seen how educating and investing in girl child can benefit the nation.
BJP's chief ministerial candidate Kiran Bedi, state unit president Satish Upadhyay, party MP Manoj Tiwari, Union Minister Harsh Vardhan were also present in this rally.
The Bharatiya Janata Party (BJP) has  roped in as many as 120 Members of Parliament to address over 250 public meetings in the national capital.
Elections for the 70-seat assembly in Delhi will take place on February 7, with counting of votes slated for February 10.