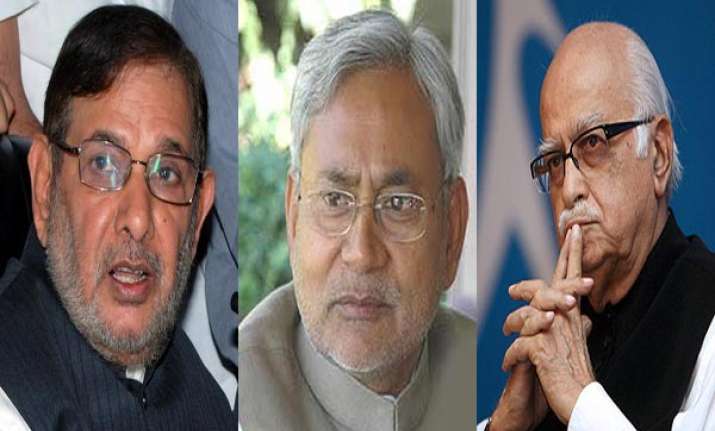 New Delhi/Patna, Jun 14:  Janata Dal(United) president Sharad Yadav today said, sidelining of senior BJP leader L K Advani and BJP leaders sabotaging JD(U)'s prospects in the Maharajganj bypoll were some of the reasons for the party being forced to take a crucial decision on quitting NDA.
In an exclusive interview to India TV in Delhi, Yadav said, National Democratic Alliance was formed  on the basis of consensus over issues with Atal Bihari Vajpayee and L K Advani being the topmost BJP leaders at that time.
The JD(U) leader said, with Vajpayee unwell for a long time and Advani being sidelined, the Goa meet of BJP led to deterioration in the relationship. There were speeches made at the Goa meet which disturbed us, he added.
("Ye Atal Advani ke sath jo NDA bana tha usme Jin muddon per aam ray bani thi, Atal ji bimar hai...aur jaise Advani Ji  se poocha nahin Gaya... dayre me bat hoti thi...Goa ki baithak tak to theek tha lekin phir aisi baten hui...jo bhashan hue...usase bat Kharaab hui)
Yadav also alleged that some BJP leader in Bihar sabotaged his party's prospects in Maharajganj bypoll, and then the "waterlevel crossed our head"  (paani sir ke upar ho gaya).
Yadav said, Advani's resignation was also one of the reasons. "His voice is no more being heard in that party", he added.
"The way NDA is now, it's heading without a rein. We want a Prime Minister who should fit into the NDA's scheme of things", said Yadav, who is the NDA convenor.
Yadav said his party was still continuing talks with the BJP, and will arrive at an appropriate decision soon.
Meanwhile in Patna,  Bihar chief minister Nitish Kumar today clearly said, the situation was "now difficult".
Most BJP ministers, including Deputy Chief Minister Sushil Kumar Modi, skipped office for a second straight day Friday.
"The situation is difficult now," he told the media on his return to Patna after concluding Sewa Yatra, when asked about the relations between his Janata Dal-United (JD-U) and the Bharatiya Janata Party (BJP).
"Dua dete hain jeene ki, dawa karte hain marne ki. Dushwari ka sabab yeh hain. (Their blessing is for life but the medicine is for death. That is the crux of the problem)," he told reporters in Patna.
He was replying to a question whether it is going to be the end of the 17-year alliance between JD(U) and BJP.
Without taking names, he said some BJP leaders wanted the 17-year-old alliance between the two parties in the state to continue "but are not ready to listen us".
Nitish Kumar said JD-U leaders will discuss the state of affairs. "We will decide what to do after deliberating in the party."
Returning from a two-day 'seva yatra' for consultations with the JD(U) leadership tomorrow over the alliance issue, Bihar Chief Minister Nitish Kumar said, "The situation is such that there are problems (in continuing the alliance)."
He said the situation is difficult and what is to be done in this difficult situation is being discussed by all.
"On the one hand, some are giving suggestions that it is such an old alliance that it should continue. On the other hand, the conditions are such that there are problems," Kumar said.
While party chief Sharad Yadav appeared hopeful of a rapprochement, sources in the party described the situation as "a point of no return".
In a clear indication of things to come, party general secretary Shivanand Tiwari accused BJP of "forcing" JD(U) to come out of NDA by projecting Narendra Modi.
"BJP wants that the blame for breaking the alliance comes on JD(U) but the fact is otherwise. We had made our stand clear long time back. Our opinion on Modi was well-known. We never invited Modi in Bihar for any election that the NDA fought there," Tiwari said.
"Chief Minister Nitish Kumar had also made his opinion about Modi's projection clear without naming him at the party's national executive in Delhi some time back. Even after this, they made him the campaign committee chief and projected him as their leader. They are forcing us to quit the NDA," Tiwari told PTI.
On BJP asking JD(U) leaders to exercise restrain, Tiwari said, "They (BJP) want to force us out of the alliance. That is why they did this knowing well the stand of their oldest ally."
BJP Vice President Mukhtar Abbas Naqvi had earlier said, "We hope that at least their (JD-U)senior leaders should ask their other leaders to exercise restrain on the language they use".
The view among a number of JD(U) leaders is, however, that after Modi's projection and the hype surrounding his elevation, "no other options are left" than parting ways.
According to JD-U leaders, Nitish Kumar will first meet party leaders considered close to him to get their feedback and some other colleagues Saturday.
The "final meeting" on the subject is likely to be held Saturday night or Sunday morning in the presence of JD-U president Sharad Yadav, a party source said.
There are 11 BJP ministers in the Nitish Kumar-led government.
Relations between the two hit a low after Nitish Kumar came out publicly against his Gujarat counterpart Narendra Modi as the prime ministerial choice of the BJP.
The JD-U also expressed unhappiness over BJP leader L.K. Advani's decision to give up key party posts. BJP leaders have accused the JD-U of interfering in BJP's internal affairs.
Also Friday, Bihar BJP president Mangal Pandey said the JD-U will be responsible if the alliance collapsed in the state.
The BJP has also called a meeting of party leaders at Sushil Modi's residence to discuss the strained ties between the BJP and JD-U.
"It is an emergency situation, so more meetings would be held to chalk out a strategy," BJP's C.P. Thakur told the media.
The JD-U is believed to be gearing up for life without the BJP.
According to JD-U leaders, the party is in touch with over a dozen BJP legislators including ministers.
There was some good news for the JD-U though. Four of the six independent legislators have announced their support to the government.
Even the Congress, with four legislators, is likely to support Nitish Kumar if he dumps the BJP.
The JD-U has 118 legislators, four short of majority in the house of 243 members.