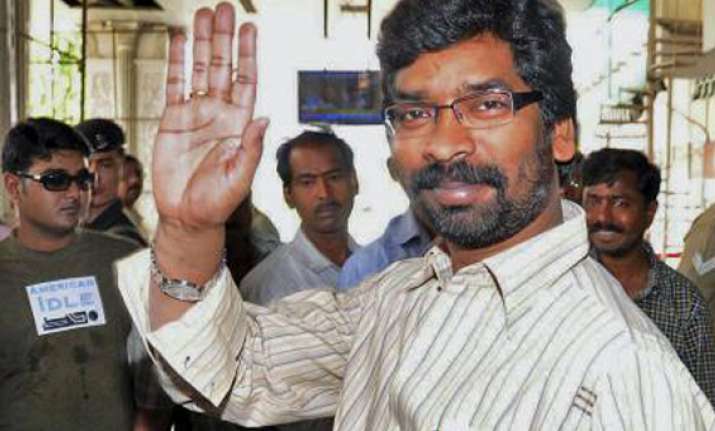 New Delhi,Jul 6: Congress on Friday inked an agreement with the JMM to form a coalition government in Jharkhand and contest the next Lok Sabha election in alliance with the tribal party, which is first new ally to come to UPA ahead of 2014 general elections.
Under the agreement, while JMM will have its chief minister in the state, Congress has secured a lion's share of the 14 Lok Sabha seats. While Congress will contest on 10 seats, JMM will get four seats.
This was announced by JMM leader Hemant Soren, who will be the chief minister of the Congress-JMM coalition government in Jharkhand.
He made the announcement after a meeting with AICC general secretary in-charge for Jharkhand B K Haripasad in the Congress headquarters.
The alliance is not confined to Jharkhand as both parties have decided to contest the next Lok Sabha polls together in West Bengal, Odisha, Bihar and Chhattisgarh as well.
The symbolism was not lost as Soren's father Shibu Soren is considered a key tribal face in the country and tribals are in substantial number in these states especially in Chhattishgarh and Odisha. While Chhattisgarh goes to assembly polls this year, Odisha polls will be held along with Lok Sabha elections due next year.
"When allies are deserting NDA, new parties are coming to UPA," Haripasad told .
In a party statement, Hariprasad said that both parties decided to form the alliance to "protect and promote secular and progressive values and to ensure the further empowerment of the weaker sections of society."
The tribal-dominated state was under President's Rule since January 18 after the collapse of the Arjun Munda-led BJP government as JMM withdrew support from it on January 8. President's Rule expires on July 18.
Congress and JMM had fought 2004 Lok Sabha polls together with CPI and RJD also being the part of the grand alliance, which had secured 13 of the 14 seats then. In the next election in 2009, when they fought separately, Congress could win one and JMM only two.
The coalition government in Jharkhand will function according to a common agenda of governance and common minimum programme, which will be monitored by a coordination committee.
Though there is speculation that Congress CLP leader Rajinder Prasad Singh could be made a deputy chief minister, there was no such indication from the AICC.
"A common agenda of governance will be prepared and made public within two weeks of a government being formed in the state. A special committee will be set up to monitor the implementation of this common agenda. A coordination committee will also be set up to facilitate the smooth functioning of the coalition government," the AICC said in a statement.
Soren said that the agreement between the two parties is to form a "coalition government" and Congress has assured "full support".
"If and when such a government is formed, the Indian National Congress and the JMM will work together to provide an administration that will enforce the rule of law without fear or favour," Hariprasad said.
RJD chief Lalu Prasad has already assured both JMM and Congress of his party's support to a new government. Congress will accomodate RJD from its quota of Lok Sabha seats while JMM will decide RJD's portfolios in the state cabinet, sources in the tribal party said.
Soren, who was camping in the national capital for the last four days, had held a series of meetings with Congress leaders including A K Antony, who heads the Congress sub group tasked with the responsibility to find allies for the next general elections.
JMM and Congress, which have 18 and 13 MLAs respectively, need the support of 11 more legislators to form a government in the 81-member state assembly. RJD has 5 MLAs in the House.
CPI-ML (L), Marxist Coordination Party, Jharkhand Party (Ekka), Jharkhand Janadhi