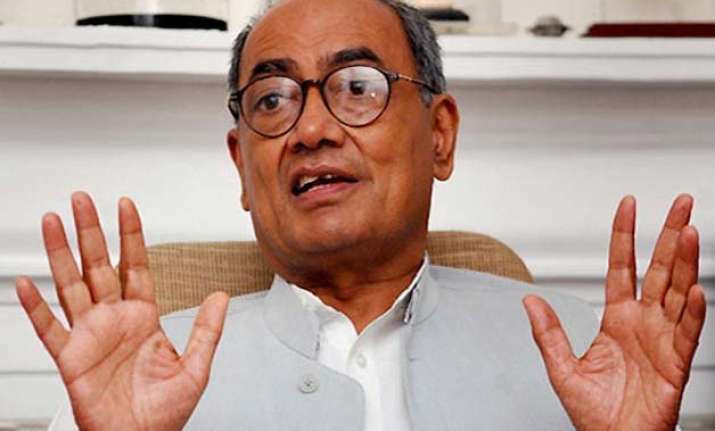 New Delhi: Amid the row about alleged snooping on close relatives of Netaji Subhas Chandra Bose by Nehru government, Congress leader Digvijay Singh today hit back asking the BJP-led NDA government to probe the "mysterious" death of Jan Sangh leader Deendayal Upadhayay.  
Rejecting as a "well-planned conspiracy" the suggestions that Jawaharlal Nehru tried to snoop on Netaji's family, Singh said that the IB report on which such "insinuations" are being made is all about an inquiry about a Sadhu of Shoulamari Ashram in West Bengal about whom somebody had claimed that he was Netaji.
"There is no issue in it. BJP has tried to make an issue out of a non-issue. They said Nehru was snooping on Netaji's family and this conclusion is based on these documents. These documents have no relevance to Bose.
"At that time, someone claimed about an unknown Baba of Shoulamari saying he was Netjai. So it was then quite natural for the IB to make an inquiry into it. Hence, the inquiry was made about the Saadhu and not Netaji," Singh told reporters as he gave away photocopies of the purported document of 1961 issued by the Office of the Director Intelligence Branch of West Bengal.
Holding that no one can undermine the contribution of Bose to the freedom struggle, the Congress leader said that they will be happy if all the facts are put out in public domain.
"I have the documents based on which the allegation is being made that Nehru snooped on Bose's family. That is totally false. Such crackers are deliberately fired whenever the Prime Minister goes abroad.
"We are equally concerned about Netaji. But we are also concerned over the manner in which Pandit Deendayal Upadhayay's death happened. BJP should probe that also. The entire country wants to know about the circumstances surrounding his death," Singh said.
Upadhayay, the then President of Jan Sangh, was found dead at Mughalsarai railway station in UP on February 11, 1968. A number of conspiracy theories have done rounds since then.