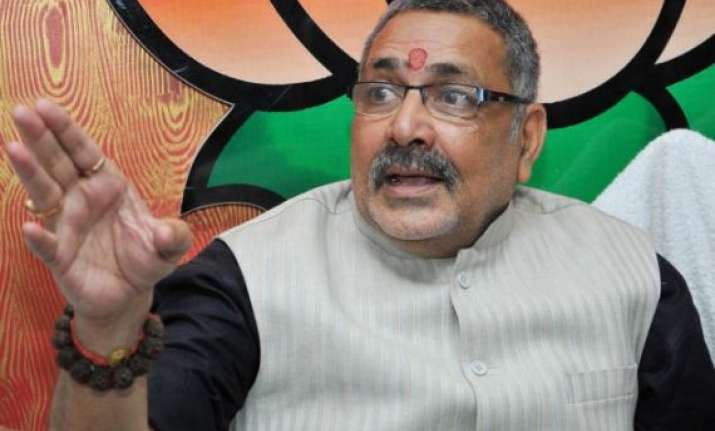 New Delhi: Union Minister Giriraj Singh today took a swipe at Aam Aadmi Party chief Arvind Kejriwal calling him an "impersonator" who has been trying to mislead the people of Delhi for political gains.
"Kejriwal is someone who wants to play 'Hanuman' in Ramlila but later backs out. He promised free electricity, giving legal status to slums but when he realised that he can not do all that, he went back to 'dharna'. Society is full of impersonators and I warn people not to fall prey to him.
"Someone who had not fulfilled his responsibilities, don't give him a second chance," he said while addressing a rally at Dilshad garden area.
The Minister of state for Micro, Small and Medium enterprises also slammed the Congress for indulging in "appeasement politics" with the minority community to garner votes in the garb of secularism.
Singh, who had stoked a controversy during the run up to the General elections by saying that those who want to stop Narendra Modi from becoming Prime Minister should go to Pakistan, blamed media for misquoting him.
"That was cut and paste job by the media persons, but I am against minority appeasement. Congress exercises so called secular politics, that is actually politics of appeasement," he said.
Denouncing the fire incident at a church in East Delhi yesterday, Singh said, "I came to know about the church fire through the media. The incident is condemnable and I believe in 'sarvdharm sambhav'," he said.
Drawing parallels between Swami Vivekananda and Prime Minister Narendra Modi, the minister said, "Just like Vivekananda did in Chicago, Modi is bringing India's glory back by speaking at international forums."