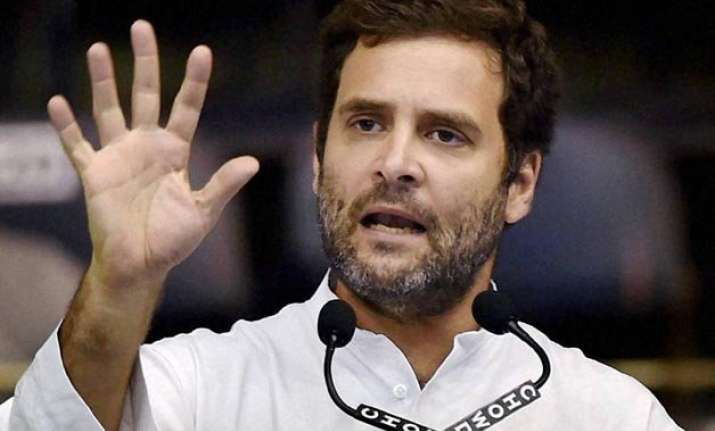 New Delhi: Congress vice president on Wednesday led an aggressive charge against the Narendra Modi government, slamming it over issues related to the suicide of Rohith Vemula, the arrest of JNU leader Kanhaiya Kumar in a sedition case and the black money compliance window proposed by Finance minister Arun Jaitley in his budget speech, calling it a 'Fair and Lovely yojana' wherein black money could be turned to white.
Rahul was speaking in the Lok Sabha during the discussion on Motion of Thanks to the President's Address. The speech, which suggested a coming-of-age for Rahul, may have evoked mixed responses from the BJP and Congress leaders for obvious reasons, there were moments throughout his speech where Rahul not only managed to make his presence in the house felt, he also lightened the mood –at times unwittingly.
Some of these moments, made of the classic Rahul Gandhi stuff that rules social media, left the house reeling in laughter. We bring you a collection of five such moments.
The 'MGNREGA' misnomer
Leading his charge against the Modi government for severely criticising the Mahatma Gandhi National Rural Employment Guarantee Act (MGNREGA), Rahul kept referring to the scheme as NREGA - missing out on the crucial prefix of the Father of the Nation. This invited a retort from some members of the Treasury benches saying 'bhool gaya, bhool gaya (he forgot)'. Though Rahul soon corrected the gaffe and named it correctly, the damage had already been done.
When Sonia offered Rahul a candy
Rahul's fiery assault at the ruling government over a host of issues had probably left him drained out of the sheer excitement of having pulled off an extraordinary feat. Congress president Sonia Gandhi who was by his side offered him a candy soon after his speech and Rahul was seen relishing it during the course of the session. Whether it was the party president's way of appreciating her junior's oratory or a mother who had come to the rescue of her tired son is still not clear.
When Rahul addressed Dr P Venugopal (in the chair) as 'Madam Speaker'
Call it an honest mistake if you like but this one had the entire Lok Sabha in splits, including the Congress veep himself. During the course of his speech, Rahul accidentally referred to Dr P Venugopal, who was in the Speaker's chair when Rahul was speaking, as 'Madam Speaker'. To this, someone from the Treasury bench was heard saying: 'padh raha hai (he is reading his speech), suggesting that Rahul had not paid attention to who was sitting in the chair and had merely read out what was written in his speech. However, Rahul immediately corrected himself and apologised saying he had made 2-3 mistakes and that Congress leaders made mistakes but corrected them. "BJP leaders know everything," he quipped. However, BJP's leader from Karnataka Prahlad Joshi later said Congress leaders do make mistakes but never learn from them.
When Rahul had to attend to nature's call
When Prahlad Joshi got up to respond after Rahul finished speaking, the Congress VP started to leave the house. Rahul did not stop even when BJP legislators taunted him saying he was running away as he did not want to listen to the response. To this, Rahul returned to his seat and said, "Bathroom jaa raha huin bhai (I have to go to the bathroom)" and gestured like a child holding out his little finger. "Bathroom bhi nahi jaane doge? (Wont you even allow me to go to the bathroom?)" This left the entire house in peel of laughter.
When Rahul invoked Veer Savarkar versus Mahatma Gandhi
Rahul, during his discussion, stated that "Mahatma Gandhi is ours (Congress) and Veer Savarkar yours (BJP)". This led to a huge uproar in the house. Amidst the chaos, Rahul further asked the Treasury benches if they junked Savarkar and thrown him away, leading to the BJP leaders taking offence and started protesting. Party leader Kirit Somaiya even raised the issue of point of order in the house over Rahul's statements.