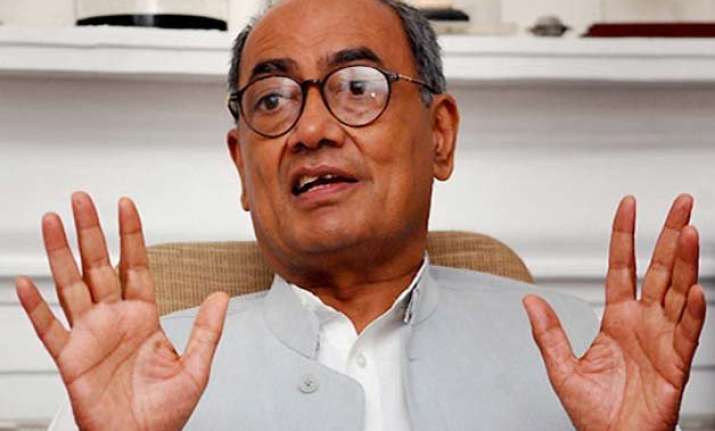 New Delhi: Inspired by the merger of the Janata Parivar parties, senior Congress leader Digivijay Singh today gave a call for the homecoming of leaders and outfits that were once part of India's oldest political party.  
The Congress general secretary told reporters that he was speaking in his "personal capacity" and was pitching for the coming together of those who had parted ways with the party as the fight now was against "communal and fascistic forces".
"Those who believe in the ideology of Mahatama Gandhi and Jawaharlal Nehru must come together. The fight is against communal and fascist forces," Singh said when asked whether he thinks that leaders and parties who had parted ways with Congress should come back to join it.
Meanwhile, disagreeing with suggestions that the coming together of the six erstwhile Janata Parivar parties was a threat to Congress, Singh said that while those parties have the social justice plank, Congress's thinking and ideology was much broader and encompassed various aspects of social, economic and foreign affairs.
He said that veteran socialist Ram Manohar Lohia had left Congress for "personal reasons" and not because of ideological differences.
A senior party functionary said he had approached NCP chief Sharad Pawar in 2009 asking him to return to the Congress fold.
Pawar's NCP in Maharashtra, West Bengal Chief Minister Mamata Banerjee's party Trinamool Congress in West Bengal, YSR Congress of Jaganmohan Reddy in Andhra Pradesh and GK Vasan's Tamil Maanila Congress in Tamil Nadu were once part of Congress.
Describing RJD chief Lalu Prasad's comment yesterday regarding the merger of Janata Parivar parties as "a solid and effective" step towards the process, Bihar Chief Minister Nitish Kumar today said in Patna that a formal announcement will be made "much before the end of this month".