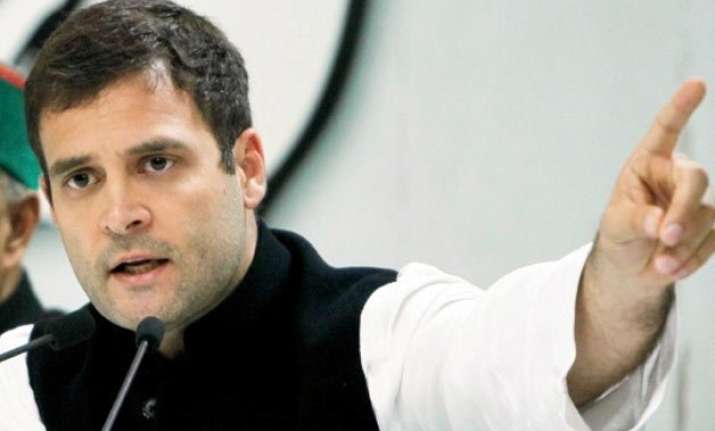 New Delhi: The upcoming AICC session in April is all set to place the grand old political party of India more to the left of Centre in terms of economic ideology.
The party, internally, is discussing whether the Hindus are feeling alienated because of its pro-minority image.
A leader who was recently made state party chief said that the Congress will be a pro-poor party.
Post-Lok Sabha polls debacle, party's vice-president Rahul Gandhi's supporters cite numerous instances which clearly state his economic philosophy.
At a Raigad rally last October, Rahul had claimed that the BJP-led NDA government was diluting pro-poor laws.
He had said that the UPA government's land law was in the interest of farmers.
Interestingly, some former Congress ministers in the erstwhile UPA regime who opposed the Land Acquisition Bill originally proposed by Jairam Ramesh are now defending it.
In November, at a rally in Palamu, Rahul said, "Your fight for jal, jangal (water, forests) is our fight, the Congress party's fight."
In January, just ahead of the Delhi Assembly polls, said that Congress is a party for the poor people.
"We will stage a comeback and will hold the hands of the poor and bring the country on the right track," he said.
Another newly appointed leader said that Rahul will assume full responsibilities soon.
Indian Express quoted a former minister as saying that besides announcing a farm loan waiver, the UPA-I had launched the job guarantee law and the Right to Information Act. He said that the UPA-II approved the food security law and land acquisition relief and rehabilitation measures.
"The Congress has always been pro-poor," the leader said.
On the other hand, there are differences in the opinions of several top party leaders.
Leaders like Digvijay Singh, Kamal Nath, Milind Deora and Sanjay Nirupam are in favour of Rahul to be made the party chief whereas many others such as Veerappa Moily are still keen for Sonia Gandhi to remain at the helm.
The organisational rejig will be clear during the AICC session, likely to be held on April 10-11.