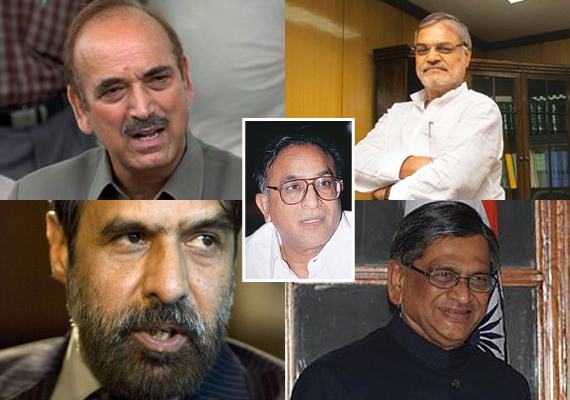 New Delhi, Aug 30: A mini-Kamraj Plan is in the offing in the Congress with stalwarts like S. M. Krishna, S. Jaipal Reddy and C.P.Joshi likely to be moved to their respective states Karnataka, AP and Rajasthan respectively, says  an Economic Times report.
Assembly elections are due in Karnataka and Rajasthan, and these leaders are being sent there to shore the party's position at the state level.
The cabinet reshuffle is likely in the second week of September soon after the lameduck monsoon session of parliament, says the report.
Health Minsiter Ghulam Nabi Azad tipped to get either Petroleum or Power portfolio, while Commerce Minister Anand Sharma, who has emerged with flying colours, may get the coveted External Affairs portfolio, says the ET report.
Top Congress leaders told the newspaper that the reshuffle could see changes in a number of ministries,including petroleum, external affairs, power, roads and highways, and information and broadcasting, with the general elections one and a half year away.
There is intense speculation that S. Jaipal Reddy could take over as chief minister of Andhra Pradesh, to counter the Jagan Mohan juggernaut.
The power portfolio,which is under the temporary charge of Veerappa Moily, the corporate affairs minister, can go to Azad, the report said.
External Affairs Minister SM Krishna could be asked to head the party in Karnataka,which goes to polls in May next year.
Ambika Soni may be divested of her I & B portfolio, the report said.
Rural Development Minister Jairam Ramesh is also believed to be a contender for the power portfolio,but opposition from industry could dampen his chances.