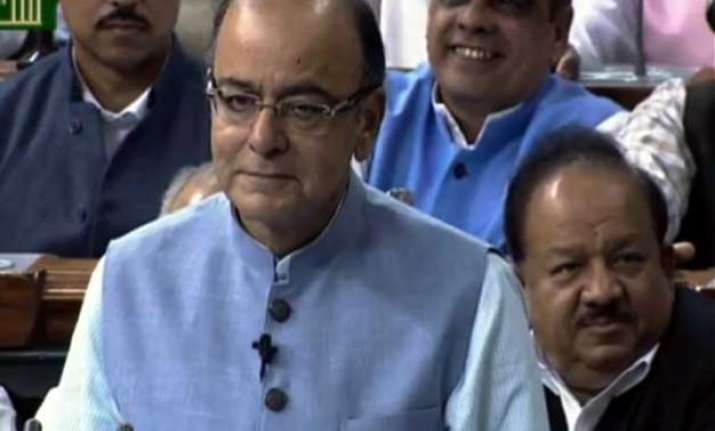 New Delhi: On February 29, the day Finance Minister Arun Jaitley presented his third consecutive budget, the atmosphere in Lok Sabha was ecstatic especially among the treasury benches. The MPs belonging to the ruling formation NDA thumped desks every time Arun Jaitley made an important announcement like increased allocation to rural sector etc.
And the NDA MPs were led by none other than the Prime Minister himself. Narendra Modi made it a point to thump desk on every major announcement made by Arun Jaitley and he was enthusiastically supported by other NDA MPs.
Interestingly, Sushma Swaraj whose terms with Arun Jaitley has always been matter of intense media speculation was also seen cheering Arun Jaitley by thumping desks with smile and excitement.
 Lal Krishna Advani , who was sitting between Jaitley and Sushma, looked serious throughout Jaitley's speech  and kept playing with his fingers, as usual.
 
Before the proceedings of the Lok Sabha started, Parliamentary Affairs Minister Venkaiah Naidu was seen standing and confabulating with Congress leaders like Mallikarjun Kharge and Kamal Nath. Perhaps they were discussing the fate of the privilege motion moved against HRD Minister Smriti Irani.
Moments before the proceedings of the house began, Prime Minister Narendra Modi entered the Lok Sabha in all-white attire. Modi looked like a student who is about to take an exam as he had pointed out in his 'Mann Ki Baat' broadcast on Radio.  
On his way to his seat, he was warmly greeted by ruling party MPs. Union Minister Giriraj Singh said something to PM to which Modi smiled and stood there for a few minutes talking to him.
Once he reached his designated seat to the right of Speaker Sumitra mahajan, PM Modi wished Congress leaders including Mallikarjun Kharge and Sonia Gandhi.
The moment Arun Jaitley started his speech, Congress MPs started shouting. They wanted to know from Speaker Sumitra Mahajan the fate of the privilege motion that they had moved against HRD Minister Smriti Mahajan.
The speaker informed them that the matter is under her consideration. Even after Sumitra Mahajan's clarification, the Congress members, as usual, kept shouting slogans. The Speaker, however, asked Arun Jaitley to continue his speech that he did without bothering about the slogan shouting by the Congress members.
Immediately after Jaitley started his speech, Speaker Sumitra Mahajan told him that he can make the budget speech while sitting on his seat. Obviously, she was aware of the fact that Jaitley can't stand for long owing to his health related problems.
 
Jaitley, however, politely told the speaker that  he will do it when he finds it necessary. After around 30 minutes into his speech, Arun Jaitley sat down and continued his speech. A few minutes before completion of his speech, Jaitley stood up till he concluded his budget speech.
Those sitting in the Public and Press galleries were left wondering if they missed the part of Jaitley's speech where he perhaps mentioned the budget allocated to defence sector. They were seen asking each other what was the allocation for the defence sector.
Since mobile or any other equipment that can keep you in touch with outer world is not allowed inside the parliament premises, the audience could not realise immediately that the Finance Minister had deliberately skipped mentioning defence allocations in the budget.
 
This news, however, was prominently displayed by leading channels and portals. The experts pointed out that it had happened for the first time as far as they remembered.
While coming out of the public gallery, the first-time visitors to Parliament were pleasantly surprised to notice Sanskrit shlokas inscribed on the roof-ceilings of the Parliament building. They wondered whether the inscriptions were made by the British or the Indian leaders post-independence.
Some of the old-timers, however, informed them that   the inscription was made by Indian leaders in post-independence era especially after 1950.