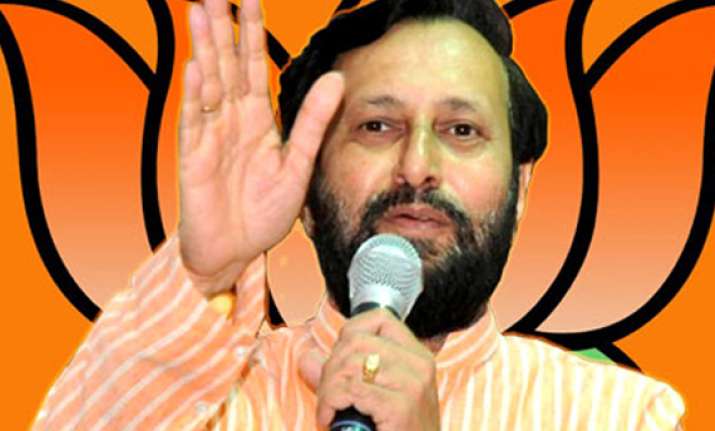 New Delhi: The BJP said Sunday it was confident of winning a majority in the Lok Sabha on its own after its prime ministerial candidate Narendra Modi was named the candidate in Varanasi in Uttar Pradesh.
BJP leaders told IANS that the candidature, although widely anticipated, would enthuse party activists both in the politically critical state of Uttar Pradesh and all over the country.
"The morale is very, very good now," spokesman Prakash Javadekar told IANS.
"We are confident that our 272 model will be met," he added, referring to the half-way mark in the Lok Sabha.
Another BJP leader, Mukhtar BJPNarendra ModiPrakash Javadekar Abbas Naqvi, spoke on similar lines.
"Modiji is an icon and the face of development across communities and regions," Naqvi told IANS.
"When he fights from an important state like Uttar Pradesh, it sends out a new wave of energy and enthusiasm throughout the country.
"It is celebration Holi before Holi for (party) workers in UP. They are jubilant and happy."
Lakshmikant Bajpayee, the Uttar Pradesh BJP chief, said it was "very fortunate for us that Modi is fighting from Uttar Pradesh even though he is from Gujarat.
"He will get elected from UP and become the prime minister. This decision has infused the (party) workers with renewed energy."
He said he was confident that Bharatiya Janata Party would now bag at least 50 of the 80 seats in the sprawling state.
The BJP won only 10 seats in Uttar Pradesh in 2009 and wants the tally to rise dramatically if it is to make a pitch for government formation in New Delhi.
BJP strategists say Modi's candidature in the Hindu holy town of Varanasi will galvanize both voters and party supporters alike.