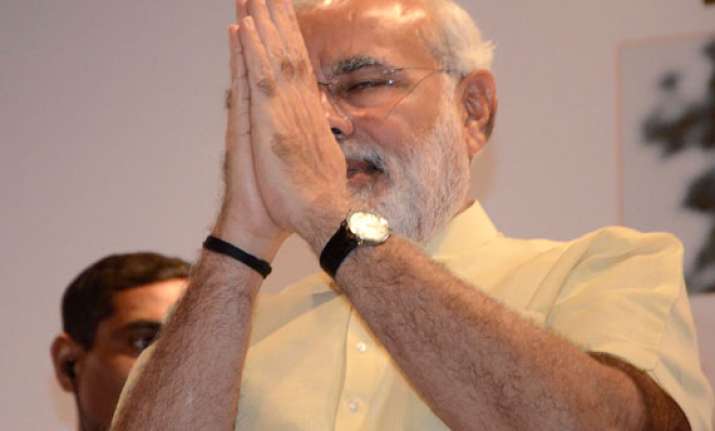 Ahmedabad, Jun 5: In a big victory for Chief Minister Narendra Modi, the BJP today snatched all two Lok Sabha and four assembly seats from the Congress in Gujarat where by-polls were held on Sunday.
In emphatic endorsement of Modi's popularity, BJP won the Porbandar and Banaskantha Lok Sabha and Limbadi, Morva Hadaf, Jetpur and Dhoraji assembly seats, all of which were held by the Congress.
An elated Modi, who was so confident of the victory that he did not even campaign for party nominees, termed the defeat of Congress candidates in the two Lok Sabha seats as a "reflection of public anger" and an "ultimatum" for the Centre's ruling party ahead of the general elections due next year.
"The people of Gujarat have given a thumping victory to the BJP and Congress has fared miserably. BJP's emphatic victory and Congress's defeat in two Lok Sabha seats is in a way a message of public anger and an ultimatum to the Congress," he told reporters in Delhi.
The state Congress leadership accepted the defeat but accused the ruling BJP of misusing the state machinery and engaging in "coercive" tactics during the by-elections.  "Congress accepts the verdict of the people. During this by-elections ruling BJP misused the state machinery in a big way and had also given a free rein to anti-social elements," Leader of Opposition Shankarsinh Vaghela said as results poured in.
In Porbandar Lok Sabha constituency, Vitthal Radadia, a turncoat who quit the Congress after winning Dhoraji assembly seat on party ticket in the last assembly polls, registered a thumping victory after defeating his Congress rival by over 1.34 lakh votes.
Before joining the BJP, he was sitting Congress MP from Porbandar and had won Dhoraji assembly seat in December polls after which he resigned from Parliament. Radadia quit the Congress as the party appointed Shankarsinh Vaghela as the Leader of Opposition rejecting his claim.  Radadia had hogged media limelight when he was caught on camera brandishing a gun at a toll plaza after the attendant there wanted him to show his MP's identity card to claim a waiver.
Surmounting the sympathy factor, BJP nominee for Sabarkantha Lok Sabha seat Haribhai Chaudhary trounced his Congress rival Krishna Gadhvi, whose husband Mukesh Gadhvi's death had necessitated the by-election, by more than 71,000 votes.
Sympathy factor failed to work to Congress's advantage in Morva Hadaf (SC) assembly seat as well where Nimisha Suthar of BJP won defeating its candidate Bhupendrasinh Khant by 17,716 votes. Bhupendrasinh's mother Savita Khant had won the seat in December last year after her death during the counting of votes.
Vitthal Radadia's son Jayesh, who too quit Congress to join BJP along with his father, won Jetpur assembly seat thumping Jagdish Pambhar of Congress by a massive 52,910 votes.
BJP's  Kiritsinh Rana, a former state minister won Limbadi seat defeating Congress candidate Satish Patel by 24,787 votes.
The by-election was necessitated after Satish Patel's father Congress MP Soma Patel, who had won from Limbadi assembly constituency too, resigned as MLA.