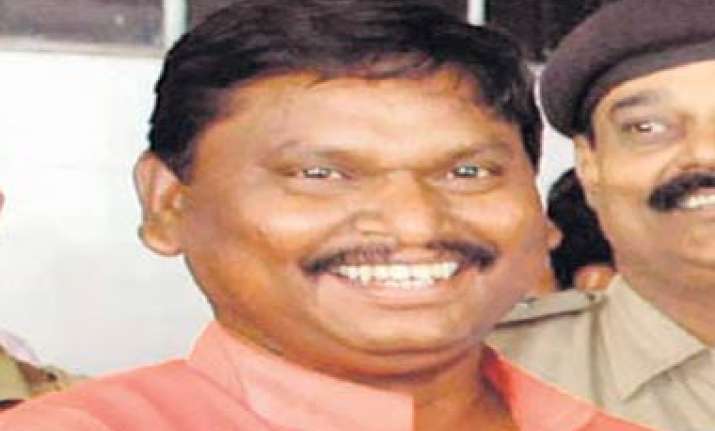 New Delhi, Feb 18 :  BJP  on Thursday made a clean sweep of all the five assembly seats where bypolls were held in party-ruled Gujarat, Madhya Pradesh, Chhattisgarh and Jharkhand while Trinamool Congress, with the tacit support of the saffron party, emerged triumphant in one seat in Manipur.
In Jharkhand, Chief Minister Arjun Munda (BJP) defeated Congress and Babulal Marandi's Jharkhand Vikas Morcha (P) alliance candidate Dasrath Gagrai.
BJP wrested Kukshi and Sonkatch seats in Madhya Pradesh from Congress after a long time. Both the seats were for long considered Congress strongholds.
In Kukshi, BJP nominee Mukam Singh Kirade defeated rival Nisha Singhar by over 16,000 votes and in Sonkatch, BJP's Rajendra Verma won against Arjun Verma of Congress by over 19,000 votes.
The party retained Gujarat's Khadia seat, its bastion for the last 25 years, when its candidate Bhushan Bhatt emerged victorious defeating Congress' Jagat Shukla.
In Chhattisgarh, ruling BJP's candidate Kumari Bai Sahu won Sanjari Balod seat beating her nearest rival Mohan Patel of Congress by nearly 9,500 votes.
The electoral battle in Manipur's Konthoujam constituency saw Trinamool Congress candidate K Sarat prevailing over Congress candidate S Ranjan by 655 votes. The TC candidate had the tacit support of BJP and Manipur People's Party, a regional outfit.
Mamata Banerjee-led Trinamool Congress is a constituent of Congress-led UPA government at the Centre and is likely to have an alliance with Congress in coming assembly polls in West Bengal.
Reacting to bypoll results, BJP spokesperson Shahnawaj Hussein said they "show the way the wind is blowing. While Congress leader Shakeel Ahmed sought to play down saying that "in assembly polls, local factors decide results and this is no reflection of the national mood of voters".
BJP is ruling in Gujarat, Madhya Pradesh, Jharkhand and Chhattisgarh while in Manipur there is a Congress-led coalition government. PTI