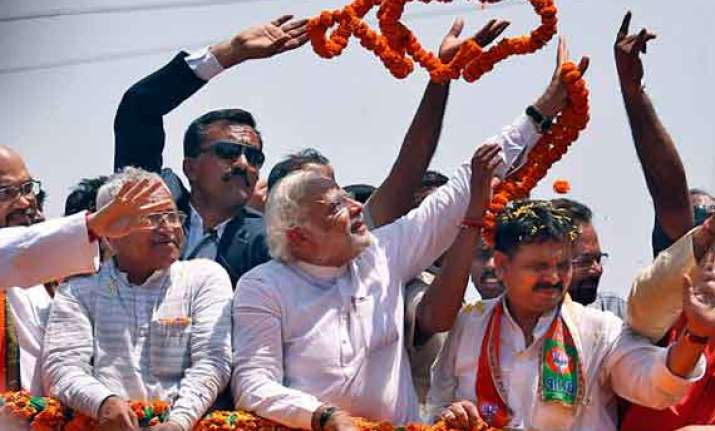 Varanasi: BJP today got into a full-blown confrontation with the Election Commission after Narendra Modi was denied permission for holding a public meeting at a venue of its choice and has planned protests while cancelling all his programmes here tomorrow.
The BJP mounted a blistering attack on the Election Commission accusing it of being a "mute spectator" to the "highly partisan" role of the Returning Officer, who cited an intelligence report of a possible communal tension for his action.
The Election Commission, however, rejected the BJP charges saying it does not accept insinuation of inaction or bias and promised action against any officer acting partisan.
Jaitley, who has been camping here, will along with Amit Shah and other leaders stage a protest here tomorrow morning while protests will also be held outside the Election Commission in Delhi.
On a day Modi was denied permission, Congress sources said
Rahul Gandhi
will hold a roadshow here on May 10, returning the compliment to Modi for his rally in Amethi on Monday. An application has been filed with poll authorities.
He wrote three missives to the Election Commission questioning whether the EC was acquiescing to the conduct of the Returning Officer.
In his fourth letter, he announced the party's intention to call off all Modi's programmes in the temple city except a visit to the main office after his rally in Rohaniya on the outskirts.
"Under the circumstances, the BJP would not be organising any of the three functions in Varanasi tomorrow.
"We will be holding a protest both in Varanasi and in front of your office at 11 am tomorrow. For that action we do not require your permission.
"Narendra Modi when he arrives in Varanasi city, will be going to the election office and then to the airport. He will be in his unusual motorcade," Jaitley said.