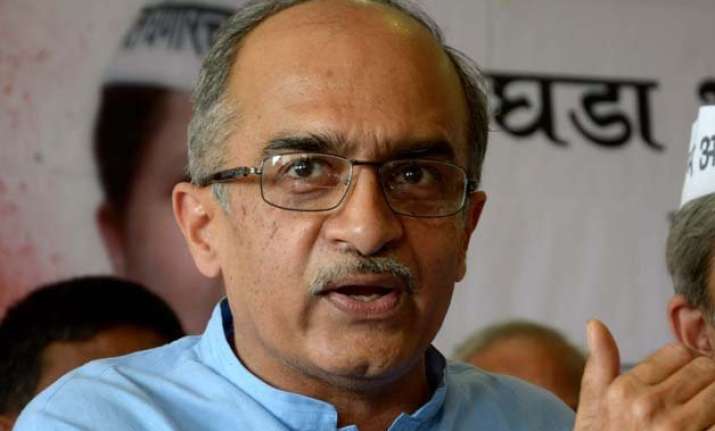 New Delhi: AAP dissident leader Prashant Bhushan today rubbished criticism by former AAP spokesperson Atishi Marlena that he backed out of the reconciliatory talks with Arvind Kejriwal camp on his father Shanti Bhushan's insistence, saying the negotiations collapsed due to "trust deficit".
In a letter to a section of AAP leaders, Marlena, a Rhodes scholar who was close to the rebel camp, suggested that both sides were nearing truce but the talks broke down at the final phase as the senior Bhushan said "no" to any reconciliation with Kejriwal.
"It is not correct to say that negotiations broke down because of my father Shanti Bhushan. The talks failed as there was trust deficit," Bhushan said when asked about Marlena's letter.
Marlena, who was removed as AAP Spokesperson along with several others including Yogendra Yadav, said that Bhushan backed out because of his father's red flag and not on the grounds of any principle.
Also Read: Sacked AAP spokesperson Atishi Marlena turns against mentors Bhushan, Yadav
The reconciliatory talks between the rebels and Kejriwal camp had broken down on March 26, two days before the national council meeting which had expelled Bhushan and Yadav from the party's National Executive.
Both Bhushan and Yadav have been maintaining that Kejriwal was determined to remove them from the National Executive and the talks were being continued to project a positive of image of himself to the volunteers.  Bhushan said Atishi was not aware about the details of the deliberations with the Kejriwal emissaries as she was not present during the negotiations.
The noted lawyer said he and Yadav have already sent their responses to Marlena on the issue.  In the letter, Marlena complimented AAP leader Sanjay Singh for trying to build a consensus between the two warring factions.
Bhushan and Yadav have convened a meeting of the volunteers and their supporters on April 14 to chalk out their future course of action.
Last week, Bhushan had written an open letter to Kejriwal accusing him of turning AAP a "high command-oriented" party and said "God and history will not forgive what you are doing to the party."