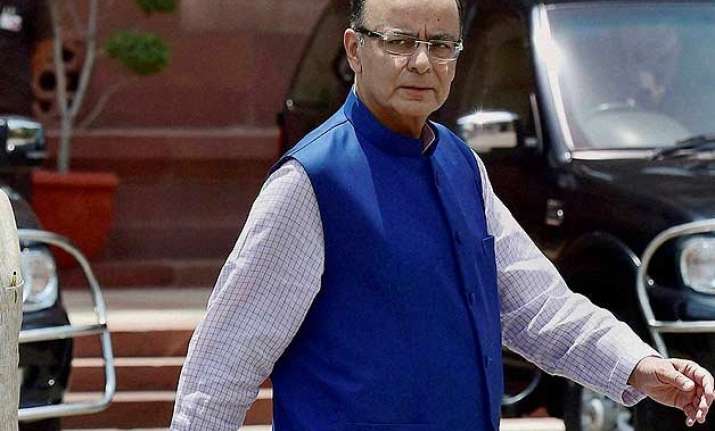 New Delhi:  Amid apprehensions that the logjam in Parliament may delay the GST roll out, Finance Minister Arun Jaitley today accused the Congress of blocking the tax reform legislation for political reasons.  
Jaitley, however, said that the Constitution amendment bill that seeks to roll out Goods and Service Tax (GST) in the country from April 2016 will eventually be passed but the "country will have to pay the cost for it" due to "some obstructionists" who have delayed it.
"If a party chooses to dissent against what it itself introduced in Parliament, then it is clear that its dissent is not for any reasons of merit or demerits of the bill but is for collateral political reasons," he said.  
Asked about the fate of the bill now, he said the bill remains and will eventually be passed.  "Some obstructionists may only try and delay it and the country will have to pay a cost for it," Jaitley said.  With the logjam in Rajya Sabha continuing, the government may miss the April deadline.
Jaitley yesterday in his Facebook post had attacked the Congress of adopting an "obstructionist attitude" in blocking GST.
He had said the points of dissent being raised now on this legislation did not find favour with either of the two UPA Finance Ministers—P Chidambaram and Pranab Mukherjee.  
Jaitley said the Congress may be upset with the government for "political reasons", but it must "accept and seriously introspect" that negativism and its "obstructionist tendencies" would hurt the country and the economy.  
In its dissent note on the Rajya Sabha Select Committee report on GST, Congress had said the bill is "pitted with compromises, exclusions and exceptions that make it impossible for us to extend our support to the Bill in the absence of the amendments we have proposed being incorporated in the bill..."
For GST roll out from April 1, 2016, Parliament needs to approve the Constitution Amendment Bill in the current monsoon session, ending August 13, after which half of 30 states would need to clear it.
The nation-wide Goods and Services Tax (GST) seeks to replace all existing indirect taxes.