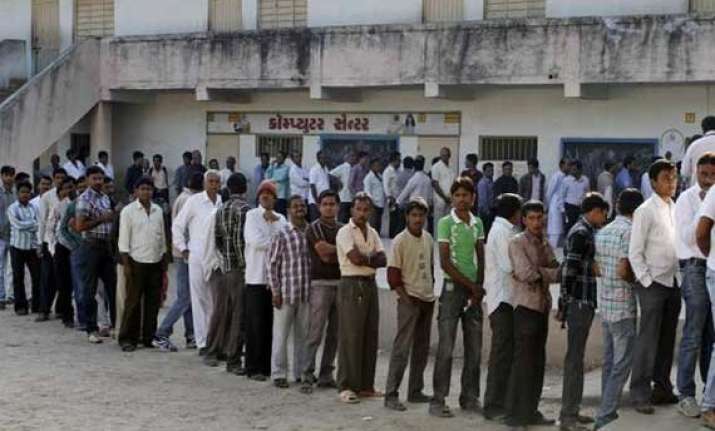 Rajkot(Gujarat): After a sluggish start in the early hours, polling picked up in Rajkot (West) Assembly seat which recorded around 49 per cent polling today in the by-election which has become a prestige issue for ruling BJP under chief minister Anandi Patel.
"Around 49 per cent voter turnout has been recorded in Rajkot (West) Assembly seat (by the deadline at 6 PM)," Gujarat Joint Chief Electoral Officer Ashok Manek told PTI.  The final figures will be released tomorrow, which may give the clear account of today's polling, he added.  The polling passed off incident-free with no report of violence, said Returning Officer B R Chaudhary.  
The seat, once represented by Prime Minister Narendra Modi, who had then entered Gujarat politics, fell vacant following the resignation of sitting MLA Vaju Vala after he was appointed Governor of Karnataka. The constituency has been BJP's pocket-borough since 1990.
Rajkot (West) has around 2.90 lakh voters among whom Patel community (both kadva and leuva) accounts for 45 per cent.  While Congress nominated Jayanti Kalaria, a Patel strongman, BJP fielded former Rajya Sabha MP and senior party leader Vijay Rupani in the seat.
Anandi Patel, who succeeded Narendra Modi as chief minister after the latter's ascension to Centre, had termed the bypoll a prestige issue for BJP.
BJP is facing the challenge in the form of resurgent Congress which had wrested three out of nine constituencies, namely Mangrol, Khambhalia and Deesa from BJP in recently-held bypolls.
The campaigning for the bypoll was rocked by a controversy when some 'defamatory' leaflets were distributed against Rupani following which some BJP members lodged a police complaint against sitting Congress MLA from Rajkot-three seat, Indranil Rajyaguru.
While Vala cast his vote at a polling booth in a community hall here. BJP candidate Vijay Rupani exercised his franchise at a school in Jivannagar area. His Congress opponent Jayanti Kalariya cast his vote in a booth in Panchvati Housing Society premises.
Counting of votes would be held on October 19.