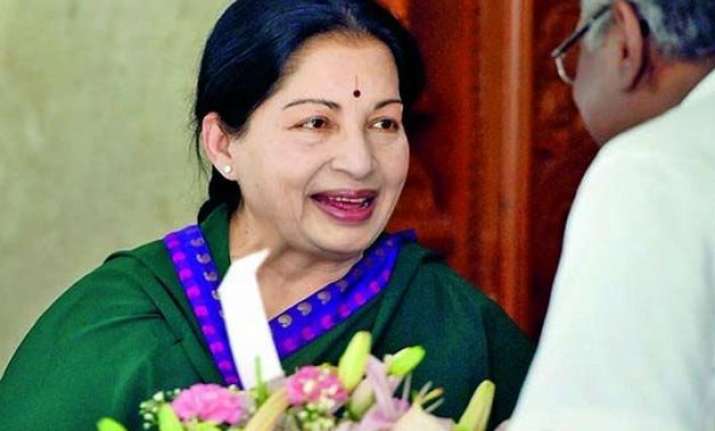 Chennai: A day after AIADMK supremo J Jayalalithaa came out triumphant in a disproportionate assets case that could have marred her political future, Ministers and senior party functionaries today vied with each other to express their happiness for 'Amma', in the form of posters and flex banners across the city.
Ministers, MLAs and senior functionaries splurged the pages of party mouthpiece 'Dr Namadhu MGR' with extravagant half-size to full-size advertisements with catchy slogans hailing their 'Puratchi Thalaivi' (Revolutionary Leader).  They expressed joy on Jayalalithaa being acquitted in the Rs 66.66 crore disproportionate assets case by the Karnataka High Court on Monday.
Innovative flex-banners and posters cropped up overnight, carrying photos of smiling Jayalalithaa including her flashing the victory sign, as supporters continued with celebrations.
While the sum and substance of the publicity material issued by Ministers and MLAs was focused on Jayalalithaa's own statement that justice had been served in the case, each of the supporters had their own innovative ways to hail her.
The advertisement released by Health Minister Dr C Vijayabaskar in 'Dr Namadhu MGR' said that yesterday was the true 'Mother's Day,' as 'Amma' (Mother), had wriggled herself out of the legal tangles.
Mother's Day was celebrated on Sunday.  While Industries Minister P Thangamani hailed Jayalalithaa as a 'symbol of sacrifice and bravery', Animal Husbandry Minister TKM Chinnaiah said she had come out unscathed like 'gold refined in fire.'
Posters, banners and print advertisements by partymen described Jayalalithaa in most innovative ways, coming up with a series of anecdotes and similes.
'Dr Namadhu MGR' also took a swipe at DMK on the corruption issue, saying the Party Treasurer MK Stalin had to 'answer' on the 2G spectrum allocation scam, in which his sibling Kanimozhi and party colleague and former Telecom Minister A Raja, are accused.