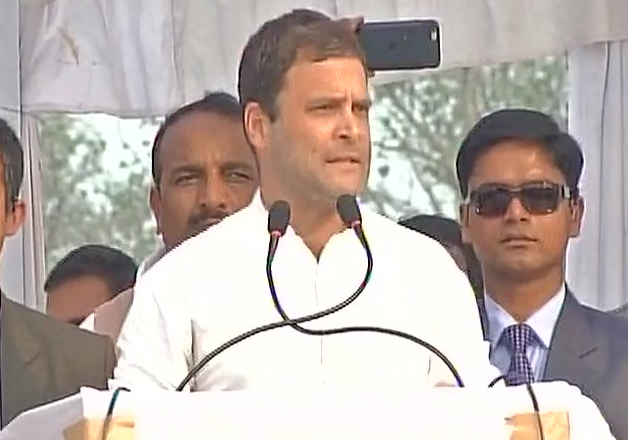 After weeks of dilly-dallying, postponements and cancellations, Congress president Sonia Gandhi's daughter Priyanka Gandhi Vadra today finally hit the campaign trail for the Uttar Pradesh Assembly elections today.
Priyanka, who had primarily limited herself to backroom strategy-making and behind the scenes negotiations, today appeared alongside her younger brother and party vice-president Rahul Gandhi to launch a poll campaign in the family pocket borough of Raebareli – the Lok Sabha constituency of Sonia. 
However, Priyanka skipped making an address to the gathering and instead let her brother do the talking.
Addressing the gathering, Rahul hit out at Prime Minister Narendra Modi over the notes ban, saying millions across the country went scrambling for cash as 86 per cent of the currency in circulation was suddenly declared worthless.
The Congress vice president also took shots at the PM for helping the rich and ignoring the woes of the farmers and the downtrodden. 
Rahul said the farmers only have three demands -- loan waivers, cut in electricity bill and the right price for selling their produce, but the BJP does not listen to their demands.
"Two crore farmers have asked Modi ji to waive their loans, but there was no response from Modi. He didn't speak about loans, about farmers. Modi can waive off loans in 15 minutes but no one does it," Rahul said, adding that PM Modi remembered farmers only during elections.
#WATCH: Rahul Gandhi speaking in Raebareli on PM Narendra Modi's reaction when he asked him (PM) to waive off farmers' loan. #uppolls pic.twitter.com/BqmWJGEfB6

— ANI UP (@ANINewsUP) February 17, 2017
BJP has promised they'll waive off farmers' loans if it forms government in UP. The UPA had waived Rs 70,000 crore of farmers' loans when it was in Centre, not UP," he added.
Rahul further lashed out at PM Modi over the special packages he had announced for Bihar. "Modi had promised special packages to Bihar as well, but what happened?" he asked.
Rahul further targetted the PM for failing to deliver upon his promises for his Lok Sabha constituency of Varanasi.
"While campaigning, he promised to change Varanasi and called it his mother. Modiji...relationships are not just about talk but action. I have a long list of what he promised his 'mother' - Clean Ganga, Ghats, Ring Road, free WiFi, Bhojpuri Film City...," Rahul said.
In a jibe at the PM, Rahul referred to two Bollywood films to drive home his point.
"Imagine going to watch a movie. You are shown Shah Rukh (Khan's) DDLJ. After two and a half years, turns out it is Gabbar Singh in Sholay," the Congress VP said, amid loud cheers from the crowds.
Modi ji seems very tired. He should stay in Delhi. We can govern UP. In 2019, we'll ask him to leave Delhi as well, so he can relax. pic.twitter.com/9UdIJ1w1YQ

— Congress (@INCIndia) February 17, 2017
In a parting shot, Rahul further rubbed in what he termed as Modi's failure to deliver upon his promises to the people.  
"Modi ji seems very tired. He should stay in Delhi. We can govern UP. In 2019, we'll ask him to leave Delhi as well, so he can relax."