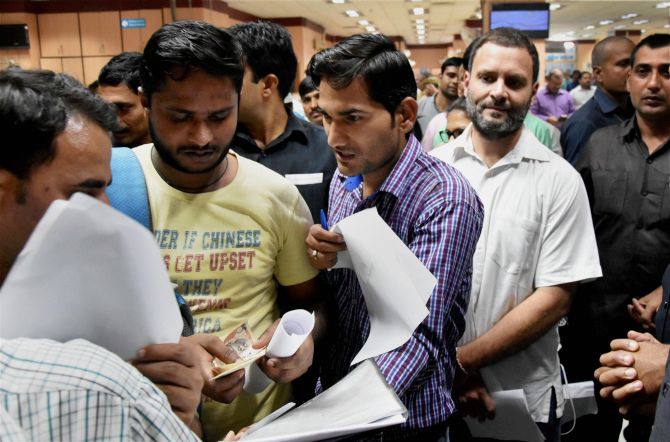 Congress vice-president Rahul Gandhi on Friday took many by surprise when he visited SBI's Parliament Street branch to exchange demonetised currency notes with new ones.
While standing in a queue, Rhaul Gandhi lashed out at Narendra Modi, saying the Prime Minister would not understand the problems people were facing due to the Centre's move.
Attacking the Prime Minister, Gandhi said the government should be for the poor and not for just 15-20 persons.
The Congress vice-president said that he was standing in queue as the people were suffering while exchanging their demonetised 500 and 1,000 rupee notes.
But Rahul's this move didn't go down too well with Twitteratti, they trolled him instead.
Here are some of the reactions.
Rahul Gandhi stood in an ATM queue. Stupid boy didn't know foreigners can easily exchange their foreign currency at airport

— Ra_Bies (@Ra_Bies) November 11, 2016
Dear Mr #RahulGandhi, did you think of the inconvenience you caused to the people in queue by landing up at an ATM for a photo-op?

— Smriti Jain (@Smriti_j22) November 11, 2016
Last time rahul gandhi was seen at atm was aroubd 2000s wen he ran without security in mumbai
local trains to fetch votes
#ATMRaGa

— Manu Chandel (@manuchandel_) November 11, 2016
C Version
राहुल गांधी seen at ATM. People are confused whether he came searching for Pokemon or to withdraw money. #RahulGandhi

— Aman Singh🇮🇳 (@aman_singh79) November 11, 2016
It was first time in his life that #RahulGandhi saw ATM of Bank through close quarters but his experience was so nauseating that he fainted

— Ashok Garekar (@DrGarekar) November 11, 2016
This morning I got up at night..My mother came to my room,cried & said- Beta white Money khatm ho gai.Kal 4 hazar nikal k lana- Rahul Gandhi

— Paresh Rawal (@Babu_Bhaiyaa) November 11, 2016
We Also Ban 25 , 50 paisa but never did show off...

- Rahul Gandhi

— RAHUL 🇮🇳 ☔️ (@saifalikhan_2) November 8, 2016