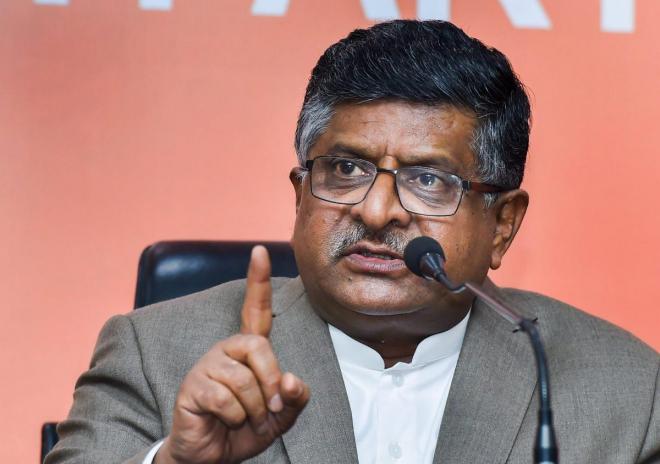 In a counterattack on Sunday, the Bharatiya Janata Party (BJP) accused the opposition, including the Congress party, of supporting violence and disrupting peace in the country. 
Union Minister Ravi Shankar Prasad along with Social Justice Minister Thawar Chand Gehlot held a press conference here today.
"Congress, SP and BSP have supported violence and disrupted the peace of the country," Prasad said. 
"The opposition is indulging in politics in the name of Babasaheb Ambedkar," he added.
He also said that while the BJP is working to strengthen the SC/ST Act, Rahul Gandhi is busy opposing it.
The presser came after Bahujan Samaj Party (BSP) chief Mayawati, earlier today, claimed that Dalits were facing atrocities in states governed by Bharatiya Janata Party after a 'successful' Bharat bandh.
"Bharat Bandh protest was largely successful. This has left the BJP scared and authorities in the BJP ruled states have started atrocities towards Dalits. Many Dalits and members of their families are being arrested," Mayawati had said. 
Reacting sharply to Mayawati's allegations, Gehlot said, "Kanshi Ram Ji never believed in violence but today Mayawati is walking towards that path."
Earlier today, the BSP chief attacked the Dalit BJP MPs even as they echoed her concerns. 
"I am confident that self-respecting Dalit community will not forgive selfish MPs," the BSP chief said, without naming the party or leaders.
Mayawati's sharp remarks came even as the BJP MPs from Dalit community expressed their displeasure towards the 'treatment of the Scheduled Caste community at the hands of their government'.
On Sunday, BJP MP Udit Raj alleged that members of his Dalit community were being "tortured" in various parts of the country in the wake of the violent protests during the 'Bharat Bandh' earlier this week. 
"Reports are pouring in that those Dalits who participated in agitation on April 2 are being tortured and it must be stopped," he said in a tweet. 
"Dalits are tortured at large scale after April 2 country-wide agitation. People from Barmer, Jalore, Jaipur, Gwalior, Meerut, Bulandshahr, Karoli and other parts calling that not only anti-reservationists but police also beating & slapping false cases," he said.
All these places, incidentally are parts of states ruled by the BJP. 
A worker of a Dalit organisation run by him in Gwalior was being tortured even though he had not done anything wrong, Udit Raj said. 
He represents North West Delhi in the Lok Sabha. 
Dalit protesters had blocked trains, clashed with police and set fire to vehicles in violent protests across seven states on April 2 against the alleged dilution of the SC/ST (Prevention of Atrocities) Act, leaving at least 11 people dead and many injured.
WATCH FULL PRESS CONFERENCE: