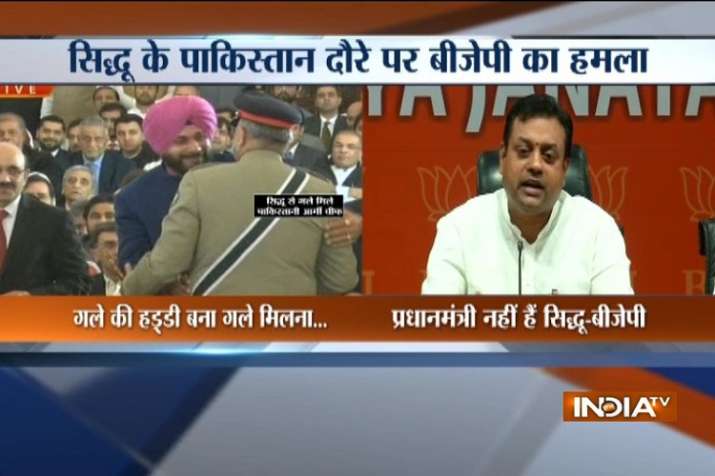 The Bharatiya Janata Party (BJP) appears to be in no mood to let the controversy surrounding Congress leader and Punjab minister Navjot Singh Sidhu's hug to Pakistan Army chief Qamar Javed Bajwa during Imran Khan's swearing-in ceremony recently. 
Soon after Navjot Sidhu's press conference in which the cricketer-turned-politician justified his act, the BJP came down hard on him demanding answers from Congress president Rahul Gandhi.
Speaking to reporters in New Delhi, BJP spokesperson Sambit Patra said Sidhu has implicated India by hugging the Pakistan Army chief and instead of explaining his act he is lecturing us over peace.
"Rahul Gandhi ji, you are out of power and should accept this graciously. You cannot run a parallel government. We want an answer from the Congress president," Patra said. "So for Congress, our Army Chief is 'sadak ke gunde' and Pakistan Army Chief is 'sone de munde'?" he added.
"Have you opened a Pakistan desk in India? Sidhu is trying to preach 125 crore how India has a 'chhota dil'. What is happening? I am asking this not as BJP spokesperson but as a normal Indian who is annoyed today by the appalling behaviour of your party," Patra said launching a blistering attack on Rahul Gandhi and the Congress.
Sidhu justifies his act 
Earlier in the day, Sidhu reiterated that his visit to Islamabad to attend Imran Khan's swearing-in ceremony as Pakistan PM was not a political tour. "It was just a warm invitation from a friend," he told reporters.
"If India, Pakistan settle their differences through talks and become good neighbours, then it will be a message for South Asia," he said, adding that his Islamabad visit was a tribute to former PM Atal Bihari Vajpayee.
"My tribute to Vajpayee ji is that I took the peace message to Pakistan. Everyone backed out but I still went. In the past also efforts for peace have been made, late Vajpayee ji had taken 'dosti bus' to Lahore, invited Musharraf. PM Modi invited Nawaz Sharif to oath-taking, he also went to Lahore unannounced," Sidhu said while trying to justify his visit. 
"Sushma Swaraj ji herself called me to informed that I have been given permission (to travel to Pakistan)," he added.
WATCH: Rahul Gandhi's can't run parallel govt, says BJP