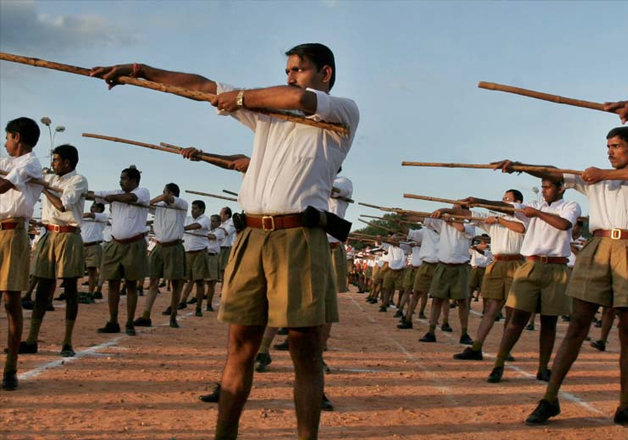 New Delhi: The Rashtriya Swayamsevak Sangh(RSS) has conceded that the decision to replace 'Khaki knickers' with 'brown trousers' was taken because the knickers had started looking outdated.
"We felt that the 'khaki knickers' had become outdated.  We also realised that knickers were not convenient during winter.  Recently, we held RSS camp at a place where the temperature was around 7 degree Celsius and the knickers were just not suitable for that climate. Keeping in mind the convenience of Sawamsevakas from different parts of the country, we have decided to replace 'Khaki knickers' with 'brown trousers'," Alok Kumar, Joint President of Delhi RSS told media persons here.
He was briefing reporters after completion of three-day convention of Akhil Bhartiya Pratinidhi Sabha (ABPS) in Nagore, Rajasthan.
Alok Ji answered in negative when asked if the decision to opt for trousers was aimed at attracting youths to the RSS Shakhas.
"I don't see any correlation between the two," he said.  Alok further clarified that the new dress code applies only for formal occasions and not for Shakhas where everybody is free to wear whatever suits them.
He also said that although the decision to replace Khaki knickers' with 'brown trousers' has been taken in principle, the date of its implementation is yet to be decided
Interestingly, he said that the RSS has no stand on the ongoing agitation demanding reservation for the Jat community in Haryana and other parts of the country.
"RSS is in favour of continuing existing reservation for  SC, ST and OBC communities but we have no stand on the ongoing agitation demanding reservation for the Jat community. Existing reservation  should continue till the time the communities, for which it is given, need it," Alok said.
However, he refused to comment on the recent remarks of RSS Sarkaryavah Bhaiyyaji Joshi in which he had said that affluent sections should not demand reservations.  Joshi's comments were seen as RSS disapproval of reservation demands from communities like Jats, Patels and Kapus.
Alok also informed that RSS Shakhas witnessed maximum growth in 2015-16 since its inception in 1925.
"The upward trend had started in 2010 and it picked up during 2012-15 which witnessed addition of 10143 Shakhas at 5161 places. The trend is continuing this year as well," he said.
He pointed out that it would be wrong to say that the growth has taken place after formation of Modi government at the centre because the upward growth began much before Modi government took the reins of power.
On JNU sedition row, he said that the nexus between Jihadi and naxal elements in university campuses has been exposed and it's a matter of grave concern.
"There is no common cause between jihadi and naxal elements but they have joined hands and are threatening India. It's good that the government has acted against them and we are satisfied with that," Alok said.
He further said that RSS will focus on three key areas namely health, education and social harmony in coming years.
He pointed out that the Akhil Bhartiya Pratinidhi Sabha has called upon all the countrymen including the government to make lives of all citizens disease free by awakening the society for healthy lifestyle, child and mother's healthcare, eradication of malnourishment and deaddiction against intoxication.
" Similarly, ABPS has appealed to the society to come forward for the noble cause of imparting education especially in the rural, tribal and undeveloped areas so that a worthy, able and knowledge driven society is created. ABPS has also appealed for maintaining social harmony in the society because it is this conduct that will eradicate caste discrimination, untouchability and mutual distrust from the society," he added.