Follow us on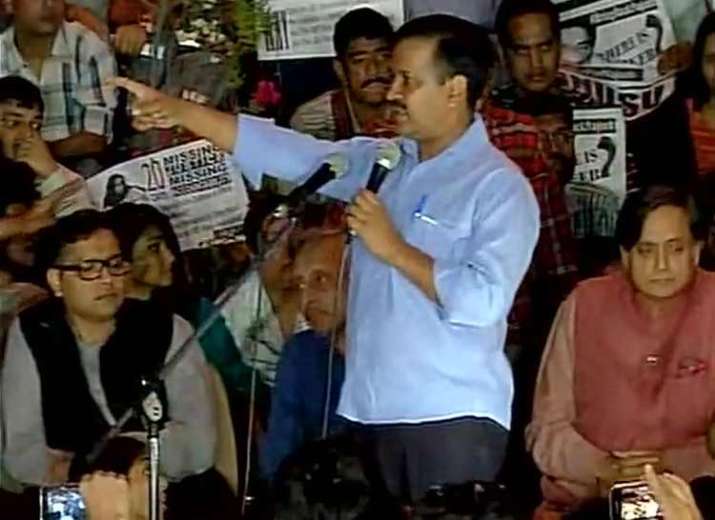 Students at the Jawaharlal Nehru University on Thursday staged a protest over missing student Najeeb Ahmed and were joined by political bigwigs like Delhi Chief Minister Arvind Kejriwal, Congress MP Shashi Traroor and senior CPI leader Prakash Karat. 
About 150-200 students gathered at the administrative block inside the campus and voiced their concern about Ahmed's safety, who continues to remain untraced for nearly 20 days. 
The students urged university officials to bring those who allegedly attacked him to book. 
Congress leader Mani Shankar Aiyar, Delhi Deputy CM Manish Sisodia and JD(U) MP KC Tyagi also joined the students.
Speaking at the venue, Kejriwal said that the issue needs to be taken out of JNU campus.
"Najeeb will only come back with the power of people. We need to take this power outside the campus," the CM said. 
He added, "We are not doing a favor by fighting for Najeeb. I am here because even my son can go missing tomorrow." 
Ahmed went missing on the intervening night of October 14-15 after allegedly being beaten up by a mob of 20 students, who had gone campaigning to his room for hostel elections.
The Chief Proctor, A.P. Dimri said: "The investigation is still going on". 
Asked about the report submitted by the warden on the assault before Ahmed went missing, Dimri said: "We cannot acknowledge any report or anything from the warden."
JNUSU President Mohit Pandey told IANS: "The Vice Chancellor has completely neglected his duty. He starts talking about academic excellence whenever students raise this issue."