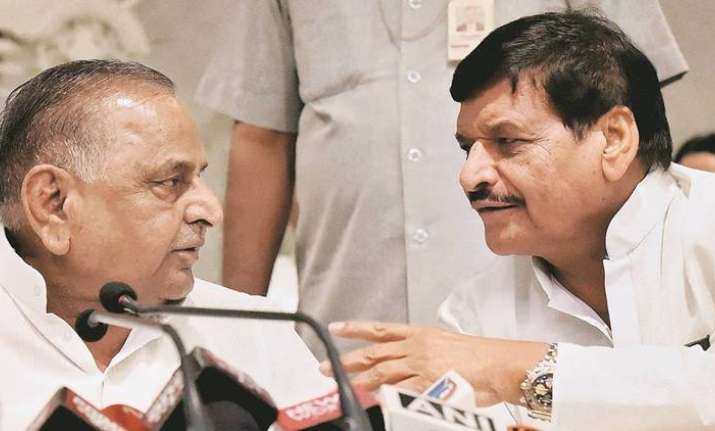 Sidelined from the Samajwadi Party (SP) by his nephew and former Uttar Pradesh Chief Minister Akhilesh Yadav, Shivpal Yadav today said that he would launch an outfit named 'Samajwadi Secular Front', which will be headed by SP patriarch Mulayam Singh Yadav on July 6, to bring the party on the "right track". 
Shivpal, who has been at odds with nephew and SP chief Akhilesh Yadav who snubbed him on various occasions, made it clear that he was forming just a "front" and not a political party. 
"We will constitute the Samajwadi Secular Front on July 6 to bring the SP on the right track. We will formally announce it at a meeting in Lucknow", Shivpal told reporters here. 
He said that those sidelined in the party will be associated with the front while talks will also be held with other parties in order to make the SP strong. 
"SP patron Mulayam Singh Yadav will be the national president of the front and I would be its convenor," Shivpal said. 
It would be a front, and not a political party, he clarified. 
"First of all, the family and then the Samajwadi family will be united and this will be possible under the leadership of Netaji (Mulayam). I want to ensure that 'Netaji's' honour is upheld", he said. 
The Samajwadi Party has witnessed a prolonged factional fight that began before the Uttar Pradesh Assembly elections with Akhilesh and Shivpal camps on the opposite sides. 
Asked about BJP government's decision for a probe in the river front project initiated during the SP regime, when he was a minister, Shivpal said, "There were no discrepancies when I was the minister. I don't know what happened later". 
Mulayam Singh, 77, was divested of his position as chief of the Samajwadi Party by his son and former Uttar Pradesh chief minister Akhilesh Yadav just before assembly elections in the state earlier this year.
After a long family feud, Akhilesh took over as party chief, promising to return the position to his father after the Assembly elections. He then went on to join hands with Rahul Gandhi and a merger with the Congress, but suffered a humiliating defeat at the hands of BJP.