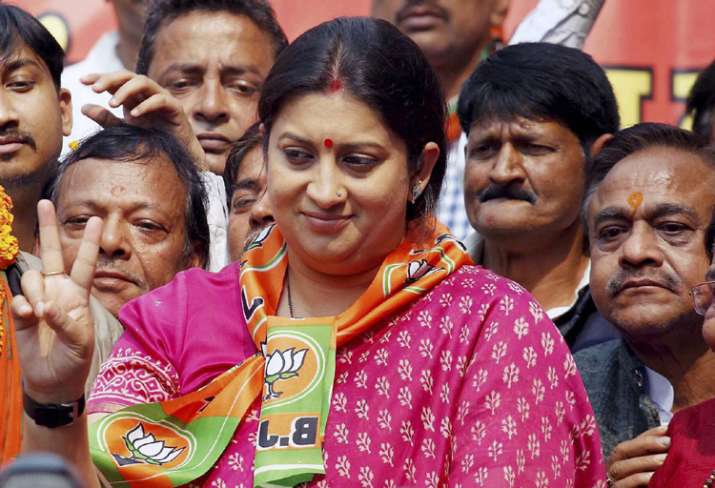 The Delhi High Court on Tuesday stayed a Central Information Commission (CIC) order to CBSE to allow inspection of class 10th and 12th school records of Union Minister Smriti Irani. 
Information commissioner Sridhar Acharyulu had on January 17 directed the Central Board of Secondary Examination (CBSE) to permit examination of Union Textiles Minister Smriti Irani's XII records, rejecting the argument that this was her personal information. 
The CBSE had challenged the CIC order in Delhi High Court. The CBSE argued that the school records of Irani cannot be disclosed under the Right to Information (RTI) Act as it was third party information which was held in fiduciary capacity. 
Justice Sanjeev Sachdeva put on hold CIC direction and also issued notice to the RTI applicant, on whose application CIC had passed the order, and sought his reply by the next date of hearing on April 27. 
CIC in its order had rejected CBSE's contention that the information sought by RTI applicant Mohd Naushaduddin was "personal". 
The office of the Minister of Textiles and the Holy Child Auxilium School, Delhi, from where Irani has claimed to have passed out, were also directed by the Commission to give her roll number to CBSE, Ajmer, which possesses the records for the years 1991 and 1993 "to facilitate search from huge records which is yet to be digitised." 
"The Commission directs the respondent authority, the CBSE, to facilitate inspection of relevant records and provide certified copies of documents selected by the appellant free of cost, except personal details in admit card and mark sheet, within 60 days from the date of receipt of this order," CIC had said in its order. 
"Disclosure of the details of a particular candidate contained in the degree or certificate register cannot cause any unwarranted invasion of privacy of the certificate holder," the Commission had said. 
It had also said if the admit card contains personal information like address, contact number and email id, then it is personal information of the candidate and need not be given. 
CIC had also said when a public representative declares his educational qualifications, the voter has a right to check up that declaration. 
(With PTI inputs)