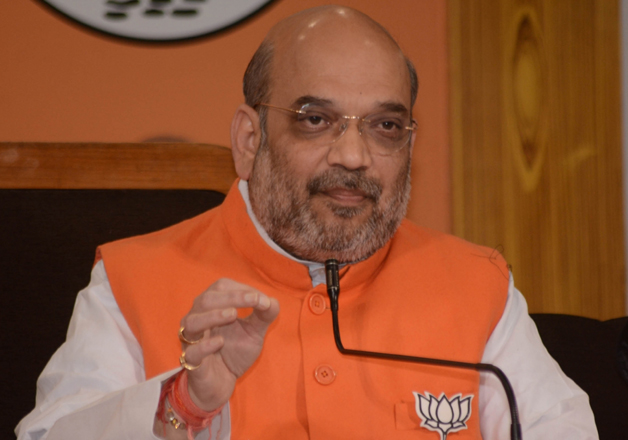 Bharatiya Janata Party (BJP) president Amit Shah today termed the fledgling Samajwadi Party-Congress alliance as a 'last minute stop gap arrangement'. 
Addressing the media here, Shah claimed that Uttar Pradesh poll outcome will bring about a major change in the course of country's politics.
"A BJP tsunami will soon hit Uttar Pradesh," Shah said, discounting as 'remote' the possibility of the state throwing up a hung Assembly. 
"The results will bring to a halt dynastic and caste-based politics," he added.
He said that by 'forging an alliance with the Congress, CM Akhilesh Yadav has already conceded defeat'.
"It was a last minute stop gap arrangement. An alliance is always between two political parties and ideologies. This is an unholy alliance and looks like an alliance between two corrupt families," he further said.
Attacking the Congress, he said, "The name of Congress president is decided at the time of birth itself. This is not the case with BJP."
"...from Jawaharlal Nehru to Indira Gandhi, Rajiv Gandhi and then to Congress president Sonia Gandhi and Congress vice president Rahul Gandhi...This is called dynastic politics," he added. 
Shah also said Ram Manohar Lohia, a socialist, fought Congress throughout his life, but SP forged an alliance with the same party. 
Taking a jibe at Akhilesh, the BJP chief said, "If he was that confident of winning the assembly elections solo, he would have never joined hands with Congress. By doing so, he has accepted defeat even when elections are not midway through."
Shah said that in SP the case was similar as party patriarch Mulayam Singh Yadav handed over the baton to son Akhilesh. 
Defending BJP's decision to give tickets to children of its MPs, ministers and senior leaders, Shah said, "The son or daughter of a BJP MP or senior leader gets the party ticket only after he or she has proved utility as a party worker."
"The scenario is completely different in the two cases," he claimed. 
Shah exuded confidence that BJP will storm to power with two-thirds majority. 
"We will form government UP, Goa and Uttarakhand," he said but refrained to saying anything on Punjab poll results. 
Citing the NCRB data, Shah said the entire law and order machinery in Uttar Pradesh has collapsed. 
"If there is one thing in which UP has surpassed other states, it is crime and corruption. UP occupies the top slot in terms of crime. Poor people, farmers, women and traders feel insecure," he claimed. 
"Only cosmetic development has taken place in the state," the BJP chief said. 
He also showered praise on Gorakhpur MP Yogi Adityanath, saying AIIMS and a urea factory were set up here because of his efforts.
To a question on triple talaq, he said that time has come to end the practice. 
A total of 49 assembly seats spread across seven districts including Gorakhpur will go to polls in the sixth phase on March 4. In the 2012 Assembly polls, of the 49 seats, 27 were won by the Samajwadi Party, 9 by BSP, 7 by BJP, 4 by Congress and 2 by others.