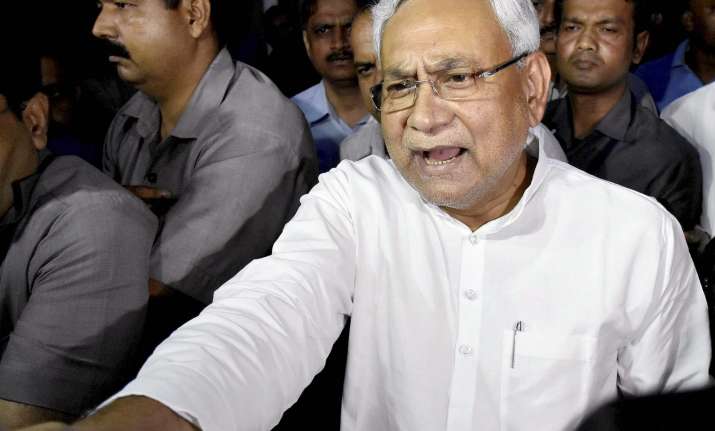 Bihar Chief Minister Nitish Kumar is all set to seek  trust vote in the state Assembly at 11 am today. A special session of the Bihar Assembly has been called today to facilitate the trust vote of the newly formed JD(U)-NDA government in the state. "The assembly secretariat has informed the house members to participate in the one-day special session which will begin at 11 am tomorrow. The members have been informed by telephone, SMS and letters," Speaker Vijay Kumar Chaudhary told media persons on Thursday. "There is only one agenda for tomorrow's special sitting - that is the trust vote of the new government," he added.
The numbers are in favour of the JD(U)-NDA government headed by Nitish Kumar but the RJD has reportedly decided to create ruckus in the House during the trust vote.
In a House of 243 members, Nitish Kumar has claimed the support of 132 MLAs – 71 MLAs of JD(U), 53 MLAs of BJP, 2 MLAs of Upendra Kushwaha's RLSP, 2 MLAs of Ram Vilas Paswan's LJP, 1 MLA of Jitan Ram Manjhi's HAM and three independent MLAs.
On the other, the RJD has 80 MLAs in the Assembly while the Congress has 27 members in the House. The CPI (ML) has 2 MLAs in the Assembly.
Lalu Yadav's RJD is hoping for a split in JD(U) legislature party as it  believes that many JD(U) MLAs are unhappy with Nitish Kumar's decision to form the government with the support of the BJP. The RJD believes that these legislators may vote against Nitish Kumar's trust vote. 
With the existing political equations in the Assembly, Nitish Kumar should easily win the trust vote. However, the RJD is exuding confidence of defeating Nitish Kumar's trust vote as the party is hoping for a split in JD(U) ranks. Former Deputy Chief Minister Tejashwi Yadav has claimed that many JD(U) MLAs are in touch with him. However, even JD(U) leaders have claimed that many Congress and RJD leaders are in touch with them.
With both sides trying to poach MLAs from each other's camp, the special session of Bihar Assembly is likely to be stormy although the numbers seem to be staked in favour of Nitish Kumar.
On Thursday, a communique from the Bihar assembly secretariat said Speaker Chaudhary would address the assembly at the beginning of the special session and Kumar would then move the confidence motion.
Earlier during the day, a brief Cabinet meeting cancelled the notification calling for five-day monsoon session for bicameral Bihar legislature from July 28 to August 3.
Nitish Kumar was sworn in as the chief minister along with BJP's Sushil Kumar Modi as his deputy on Thursday morning by Governor K N Tripathi, who gave two days to the new government to prove its majority on the floor of the House.