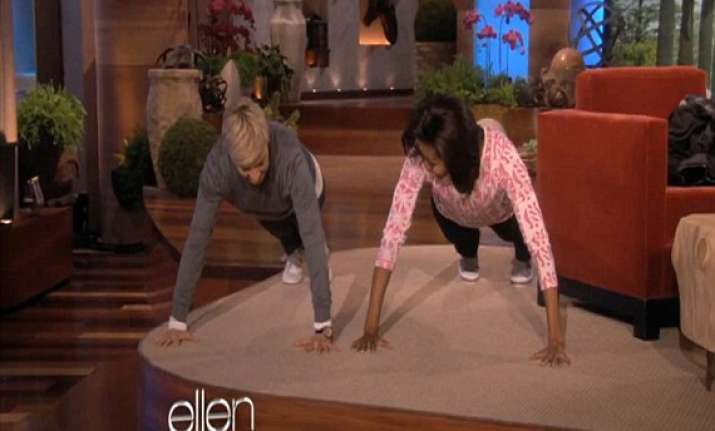 Los Angeles, Feb  3 : US First lady Michelle  Obama has been touring California promoting her health agenda, so when she was challenged to a push-up contest on a TV show, she quickly dropped to the floor to prove she practised what she preached, reports Daily Mail.
The challenge began when daytime TV host Ellen DeGeneres asked the U.S First Lady on her show: 'How many push-ups can you do? Because I like to do a push-up.'
'I don't know I can do some - can you? I know you've got these back issues,' Michelle Obama teased.
Impressive display: The U.S. first lady accepted a push-up challenge from Ellen DeGeneres on the comedian's TV talk show, and completed 25 in front of a studio audience barely breaking a sweat

To which the TV host stood up and took off her jacket, and a smiling Michelle Obama, who has completed push-ups with Archbishop Desmond Tutu stood up ready to take on the challenge.
The pair started doing the push-ups on the studio floor with the audience counting along - Michelle Obama completed an impressive 25.
'I thought it wouldn't be good to show off the first lady so I stopped,' quipped DeGeneres after quitting. '


I thought this looks bad that I'm going to beat her. I'm 54 and you're 48.'

During the show, Michelle Obama also revealed some bedroom secrets regarding husband Barack.

He doesn't pick up his socks.
'He thinks he's neat but he has people who help him. I'm like it's not you that's neat. It's the people who pick up your socks. Those are the neat people,' she told DeGeneres.

She also joined host the TV host in a boogie for the benefit of the audience.
The First Lady has spent the last few days in California, promoting her health agenda and making high-profile TV appearances.


On Tuesday night she  told Jay Leno 'I can't sing' on Tuesday night, but claimed that her husband was in the habit of serenading her.