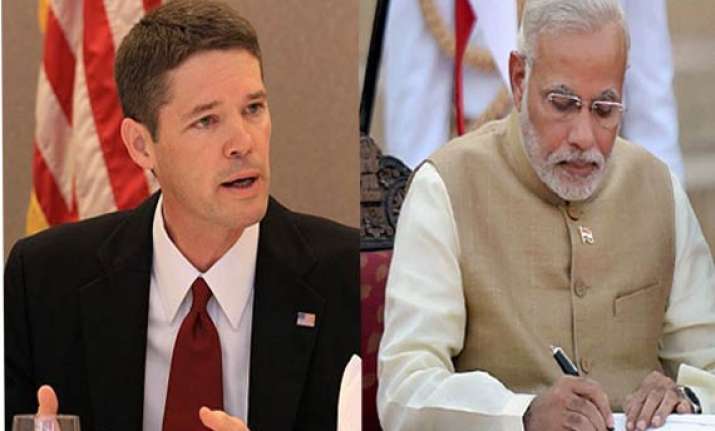 Washington: Without directly naming India, the US today expressed deep disappointment over the stand taken by the Narendra Modi government that it will not ratify the Trade Facilitation Agreement (TFA) at the WTO unless its concerns on food security are addressed.
"Today, we are extremely discouraged that a small handful of members in this Organisation are ready to walk away from their commitments at Bali, to kill the Bali agreement, to kill the power of that good faith and goodwill we all shared, to flip the lights in this building back to dark," Deputy US Trade Representative Michael Punke said referring to India's stand on TFA.
In a strong message to the World Trade Organization (WTO), India today said it will not ratify the trade facilitation pact until a permanent solution is found on food security and other issues of poor nations impacting livelihood of millions.
"To jeopardise the food security of millions at the altar of a mere anomaly in the rules is unacceptable," India said. Punke, in his remarks in Geneva where the two-day General Council meeting of WTO concluded today, said it is no use to sugar coat the consequences of such action or to pretend.
Amendment to WTO norms regarding stockpile of foodgrains is critical for India to implement of its food security plan.
"Today a small number of WTO members are indicating that they may no longer stand by their commitments to implement the TFA. Or that they will honour their commitments only if they can now renegotiate the terms and receive new tradeoffs - additional to the ones they negotiated in Bali," Punke said.
"It is profoundly disappointing that we have arrived at this moment... I do want to speak very directly about the issue of public stockholding for food security, because it has been a focal point of attention," he added.
The current WTO norms limit the value of food subsidies at 10 per cent of the total value of food grain production.
The support is calculated at over two-decade old prices.
India is asking for a change in base year (1986) for calculating food subsidies. The US gives about USD 120 billion as farm subsidy compared to India's USD 12 billion.