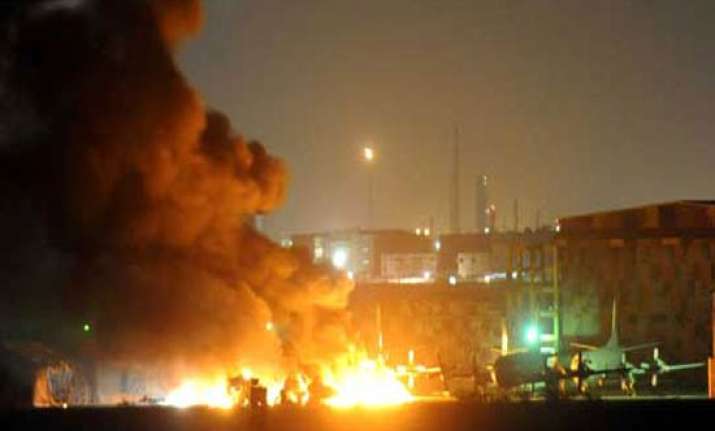 Karachi, May 23: Taliban's 16-hour brazen siege of Pakistan Navy's key Mehran airbase here came to an end after the elite commandos backed by hundreds of paramilitary personnel and helicopters shot dead four heavily armed militants after an intense battle, while two escaped. 

But before they were silenced, the handful of Taliban militants, wearing suicide vests, destroyed the Pakistan's two front line P3C Orion US acquired maritime spy planes and killed 10 security men including an officer and some firemen. 

Three weeks after the killing of al-Qaeda chief Osama bin Laden, the Pakistani Taliban claimed responsibility for the attack which they described as "suicide operation" to avenge his death.



The 17 foreigners, including 11 Chinese and six Americans, who were trapped during the night and day long gun battle, were also safely rescued, Pakistan's Interior Minister Rehman Malik announced to newsmen here saying that the "the siege has been brought to an end."

Malik said those killed included four firemen, three Special Service Group (SSG) personnel and two rangers while another 15 officials were injured.

"Reports that the militants had taken foreigners as hostages were all incorrect," he said.


Initial reports had said that a group of 15-20 militants had stormed into the sprawling naval complex last night in the worst assault on a military base since the Army Headquarters was besieged in October 2009 in Rawalpindi.  But Malik clarified that the security forces had killed four militants and bodies of three had  been recovered.

"I can confirm that we have two complete bodies and one without a head who blew himself up. A fourth terrorist was also in the building where the militant blew himself up," Malik said adding two could have escaped in the melee.  Malik said, he has seen the bodies of the attackers who were dressed in black and looked "like the star wars characters".

Armed with rocket launchers, assault rifles and explosive strapped to their bodies, the Taliban militants stormed into the Naval base at 22:40 local time by cutting through the barbed wires of the base's perimetre wall, which houses all the fighting assets of the Pakistan Navy including spy planes, helicopters and Harpoon anti-ship missiles.  


Mehran, while an important base, is not far from another vital military installation in the teeming port city.  About 15 miles away is the Masroor airbase of the PAF which is believed to be a large depot for nuclear weapons that can be delivered from the air.

Meanwhile, terming the Taliban attack on the Mehran naval air base as a "big security lapse", Pakistani defense and political analysts today said that "insiders" were facilitating the militants in their deadly agenda and asked the government and military to wake up to this.

But Malik, who had earlier described the attack as not again military installation but on Pakistan itself, refused to accept the daring attack as a big security lapse. PTI