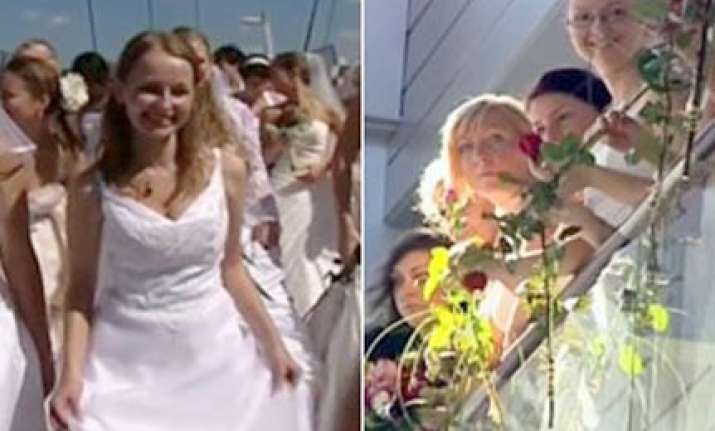 Over 100 women all dressed in bridal dresses on Sunday gathered in the Polish city of Poznan to help raise money for a sick five-year old boy, who suffers from epilepsy and autism, Polish broadcaster TVN reported.  
 The action, dubbed "Brides conquering the city for a sick child," has been taking place since 2007 and is intended to help the most needy children.
This year, the organisation will help five-year old Maciek who suffers from a range of conditions, including epilepsy, autism, as well as heart and kidney defects.
The boy was adopted by Hanna Galbas-Krefft, who has been supporting him single handed after the boy's father suffered a serious car accident that left him in a coma for several months. He continues his rehabilitation process.
"It's a fantastic thing that these young women have organised this, and are able to do something like this for such a great cause. I never thought anything like this was possible so, really, this is just a fantastic event," Galbas-Krefft told TVN.  
The organisation helping Maciek said any woman is welcome to join the campaign, the only condition being she wears white.
On Sunday, brides past and to be emerged in their gowns, some with collection boxes in tow.  
 "I hope we will collect a lot of money and that we will help little Maciek, that we will help his mom," said Asia, one of the 150 brides for the day.  
Polish model Ilona Felicjanska had her dress especially made for the campaign, and hopes to raise money by putting it up for auction.  "If my dress can be put up for auction and can help Maciek, who not only has epilepsy but is also autistic, if we can help him then I would really like to," Felicjanska told TVN. AP