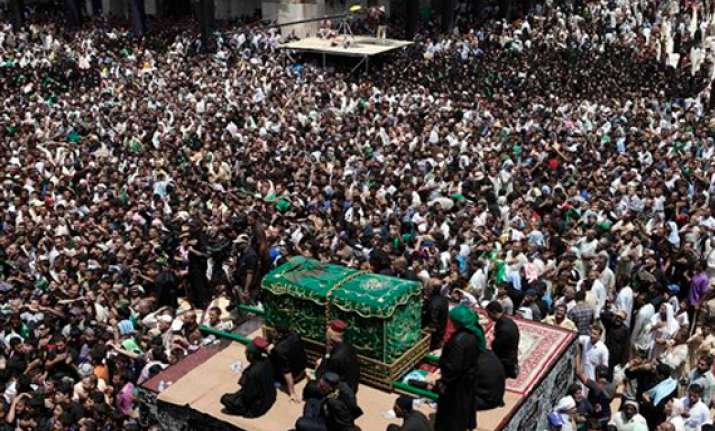 Baghdad, Jun 16
: Car bombs targeting religious processions in Iraq's capital killed at least 25 people Saturday on the last day of a Shiite pilgrimage already hit three times in some of the deadliest violence since American troops withdrew, police said.
The blasts were latest in a fierce wave of terror attacks on the annual pilgrimage that sees hundreds of thousands visit the shrine to an eighth-century Shiite imam in northern Baghdad.
On Wednesday, 72 people died in nearly two dozen coordinated bombings targeting pilgrims across the country. Al-Qaeda's affiliate in Iraq on Saturday claimed responsibility for that attack.
Al-Qaeda has been unleashing attacks every few weeks, trying to weaken the government of Prime Minister Nouri al-Maliki and spark another round of the sectarian violence that brought Iraq to the brink of civil war only a few years ago.
While fighting between Sunni and Shiite Muslims has eased off in recent years, al-Maliki's government has been plagued by sectarian tension since before the last American troops withdrew six months ago.
The first car bomb exploded just after noon near a throng of pilgrims streaming through the Shiite neighborhood of Shula in the north of the city, heading toward the shrine to Imam Moussa al-Kadhim.
At least 14 people including two policemen were killed in the blast and 46 others were wounded, police said.
The bomb was hidden in a taxi parked among a group of other taxis waiting along the procession route to take pilgrims back to their home cities once Saturday's ceremonies were over, the police official said.
He spoke on condition of anonymity because he was not authorized to release the information. A hospital worker confirmed the death toll, also speaking on condition of anonymity for the same reason.
The second blast was in Kadimiyah neighborhood, about five kilometers (three miles) from the mosque that contains the shrine where al-Kadhim is said to be buried.
The same police official said that 14 people were killed and 26 were wounded when a parked car exploded as the crowds passed by.
The Kadimiyah attack hit inside a tight ring of security that authorities had thrown up around the shrine's surrounding neighborhood after Wednesday's multiple bombings. 
Police and soldiers had been searching vehicles and people at checkpoints leading into Kadimiyah for days.
Despite the latest violence, Saturday's commemorations continued for al-Kadhim, a revered imam who was the Prophet Muhammad's great-grandson.
Massive crowds carried symbolic coffins through the streets and pilgrims beat their chests as a sign of mourning as they streamed through Baghdad toward the mosque's two golden domes. 
On the sidelines, people used hoses to spray water on the crowds to relieve scorching summer heat that reached 47 degrees Celsius (117 degrees Fahrenheit).
"The terrorists will not discourage us," vowed a song played over the mosque loudspeakers, promising to keep the centuries-old pilgrimage alive "even if they cut off our bodies into pieces.
The mosque opened its doors to the pilgrims on Saturday's final day of the commemoration, allowing them to enter and pray at al-Kadhim's shrine before filing out of another exit.
The al-Kadhim procession was struck by tragedy in 2005, when thousands of Shiite pilgrims panicked by rumors of a suicide bomber broke into a stampede on a bridge, leaving some 1,000 of them dead.
Police later said no explosives were found on the bridge, and poor crowd control and the climate of fear in Iraq appeared largely to blame.