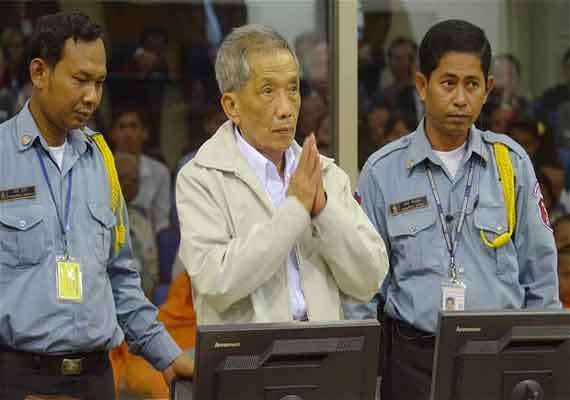 Phnom Penh: A UN war crimes tribunal on Thursday convicted two top leaders of the Cambodia's erstwhile Khmer Rouge regime - including its president, Khieu Samphan - for crimes against humanity between 1975 and 1977 and sentenced them to life terms.
Tribunal president Nil Nonn delivered the verdict against Samphan, 83, and Nuon Chea, 88, the chief ideologue of the Communist Party of Kampuchea, also known as "Brother Number 2", Xinhua reported.
The duo is among the few surviving top leaders of the regime that was responsible for the deaths of an estimated 1.7 million people from starvation, overwork, torture, execution, and massacre during the regime from 1975 to 1979.
"The trial chamber finds the accused Nuon Chea and Khieu Samphan guilty of crimes against humanity of extermination, murders, political persecution, and other inhumane acts comprising forced evacuation and attack against human dignity committed between 1975 and 1977," the tribunal verdict said.
"The chamber sentences the accused Nuon Chea and Khieu Samphan to life imprisonment," it added.
The verdict came after a two-year trial of the two former senior leaders began in November 2011 and ended in October 2013.