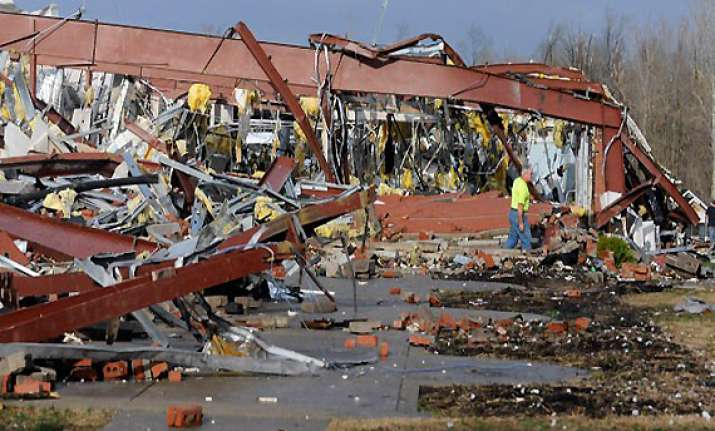 Henryville (Indiana), Mar 3: A string of violent storms from the Gulf Coast to the Great Lakes demolished small towns and cut off rural communities as an early season tornado outbreak killed more than 30 people, and the death toll rose today.

Massive thunderstorms, predicted by forecasters for days, threw off dozens of tornadoes, hitting the states of Kentucky and Indiana particularly hard.

Twisters that crushed entire blocks of homes knocked out cellphones and landlines alike, ripped power lines from broken poles and tossed cars, school buses and tractor-trailers onto roadways made impassable by debris.

Weather that put millions of people at risk killed at least 32 in four states—Alabama, Indiana, Kentucky and Ohio—but both the scale of the devastation and the breadth of the storms made an immediate assessment of the havoc's full extent all but impossible.

In Kentucky, the National Guard and state police headed out to search wreckage for an unknown number of missing. In Indiana, authorities searched dark county roads connecting rural communities that officials said "are completely gone."

In Henryville, the birthplace of Kentucky Fried Chicken founder Colonel Harland Sanders, volunteers pushed shopping carts full of water and food down littered streets, handing supplies to anyone in need.

Hundreds of firefighters and police zipped around town, where few recognizable structures remained; all of Henryville's schools were destroyed. Wind had blown out the windows of the Henryville Community Presbyterian Church and gutted the building.

"It's all gone," said Andy Bell, who was guarding a friend's demolished service garage, not far from where a school bus stuck out from the side of a restaurant and a parking lot where a small classroom chair jutted from a car window.