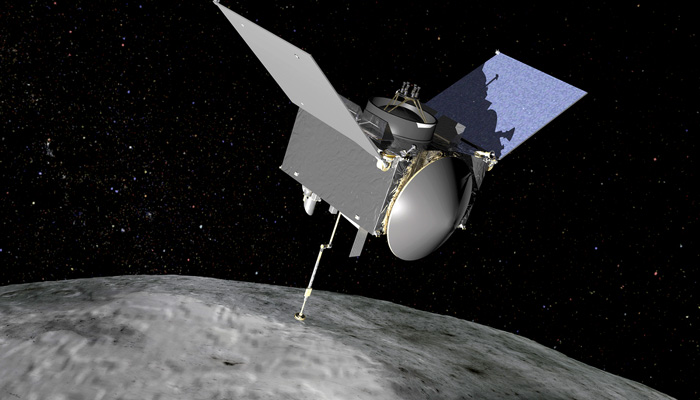 The US space agency NASA is all set to launch its first mission to return a sample of an asteroid to Earth, which will help study how planets formed and how life began.
The Origins, Spectral Interpretation, Resource Identification, Security-Regolith Explorer (OSIRIS-REx) spacecraft will be launched on September 8 from Cape Canaveral Air Force Station, Florida.
The Origins, Spectral Interpretation, Resource Identification, Security-Regolith Explorer (OSIRIS-REx) spacecraft will travel to the near-Earth asteroid Bennu and bring a sample back to Earth for intensive study.
The 2,110-kilogramme fully-fuelled spacecraft will launch aboard an Atlas V 411 rocket during a 34-day launch period that begins September 8, and reach Bennu in 2018.
After a careful survey of Bennu to characterise the asteroid and locate the most promising sample sites, OSIRIS-REx will collect between 60 to 2,000 grammes of surface material with its robotic arm and return the sample to Earth via a detachable capsule in 2023.
"The launch of OSIRIS-REx is the beginning a seven-year journey to return pristine samples from asteroid Bennu," said OSIRIS-REx Principal Investigator Dante Lauretta of the University of Arizona, Tucson.
"The team has built an amazing spacecraft, and we are well-equipped to investigate Bennu and return with our scientific treasure," Lauretta said.
OSIRIS-REx has five instruments to explore Bennu. These include the OSIRIS-REx Camera Suite (OCAMS) - a system consisting of three cameras that will observe Bennu and provide global imaging, sample site imaging, and will witness the sampling event. 
OSIRIS-REx Laser Altimeter (OLA) - scanning LIDAR (Light Detection and Ranging) will be used to measure the distance between the spacecraft and Bennus surface, and will map the shape of the asteroid. 
OSIRIS-REx Thermal Emission Spectrometer (OTES) will investigate mineral abundances and provide temperature information with observations in the thermal infrared spectrum. 
OSIRIS-REx Visible and Infrared Spectrometer (OVIRS) is designed to measure visible and infrared light from Bennu to identify mineral and organic material. 
Regolith X-ray Imaging Spectrometer (REXIS) will observe the X-ray spectrum to identify chemical elements on Bennus surface and their abundances.
The spacecraft has two systems that will enable the sample collection and return. The Touch-And-Go Sample Acquisition Mechanism (TAGSAM) - an articulated robotic arm with a sampler head will collect a sample of Bennus surface. 
The spacecraft will return the asteroid sample to Earth in the OSIRIS-REx Sample Return Capsule (SRC) which is equipped with a heat shield and parachutes.
(With agency input)