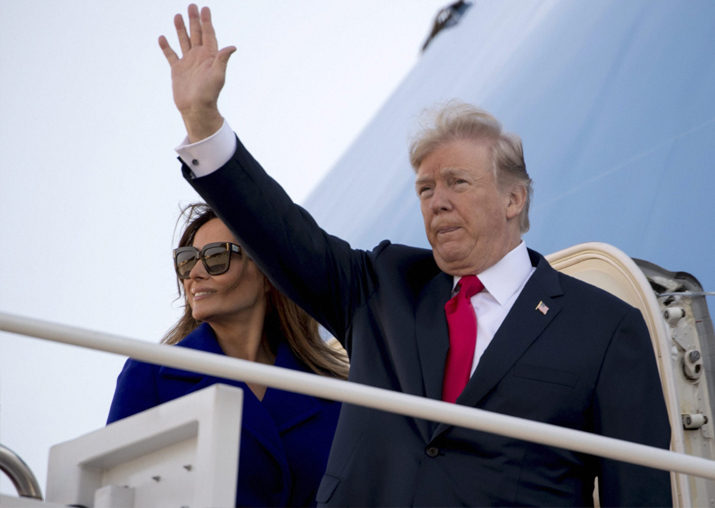 US President Donald Trump today said he would extend his trip in the Philippines by another day to attend the East Asia Summit, a key meeting between ASEAN and eight of its partners.
The US was originally scheduled to be represented by Secretary of State Rex Tillerson at the all-important East Asia Summit to be held in the Philippines on November 14.
Trump announced the news to reporters before boarding Marine One on the White House lawns for the nearly two-week long maiden trip to Asia with stops in Japan, South Korea, China, Vietnam and the Philippines. This is the longest trip ever by a US President to Asia in a quarter century.
"We're going to have a very successful trip. There is a lot of goodwill," Trump told reporters.
Looking forward to his trip, Trump said he is "actually staying an extra day" in the Philippines.
"We have a big conference, a second conference. I think we're going to have great success," he said, referring to the East Asia Summit.
"We'll be talking about trade. We'll be talking about obviously North Korea. We'll be enlisting the help of a lot of people and countries and we'll see what happens," Trump said.
Later, the White House said that President Trump plans to spend an additional day in the Philippines to attend the East Asia Summit.
Officials said the trip is to "strengthen longstanding" alliances and expand new partnerships.
On the eve of Trump's departure, National Security Advisor H R McMaster said the "historic trip" will build on his ongoing presidential diplomacy.
Trump's trip will focus on three goals: strengthening international resolve to denuclearise North Korea; promote a free and open Indo-Pacific region; and advance American prosperity through fair and reciprocal trade and economic practices.
In the last 10 months, Trump has actively engaged leaders in the Indo-Pacific to address a range of strategic issues, including, most notably, the North Korean nuclear threat.
Since taking office, Trump has placed 43 calls to Indo-Pacific leaders and conducted bilateral meetings with Japan, South Korea, China, India, Australia, Malaysia, Vietnam, Indonesia, Singapore and Thailand.
"This trip is a great opportunity to demonstrate America's and the Trump administration's commitment to the Indo-Pacific and our efforts to strengthen longstanding American alliances and expand new partnerships," McMaster said.
The US remains committed to the complete, verifiable and permanent denuclearization of the Korean Peninsula, he said, asserting that during his trip Trump will reiterate the plain fact that North Korea threatens not just its allies, but also a threat to the entire world.
So all nations of the world must do more to counter that threat, he said. "That is happening. But the president recognizes that we're running out of time and will ask all nations to do more," McMaster said.
In particular, he will continue to call on all responsible nations, especially those with the most influence over North Korea, to isolate its regime economically and politically, to convince its leaders that the pursuit of nuclear weapons is a dead end and that it is past time to denuclearize.
During his meetings with world leaders, Trump will remind friend and foe alike that the US stands ready to defend itself and its allies using the full range of its capabilities.
McMaster said Trump will also use his trip to promote his vision for a free and open Indo-Pacific region. He will make the case that respect for freedom of navigation and overflight, the rule of law, sovereignty, freedom from coercion, and private enterprise and open markets is the best model to increase prosperity throughout the region, and to secure the freedom and independence of all nations, the top presidential advisor said.
Observing that increasing prosperity of the American people is always one of Trump's top priorities, McMaster said that throughout the trip, the president will stress his commitment to free, fair and reciprocal trade.