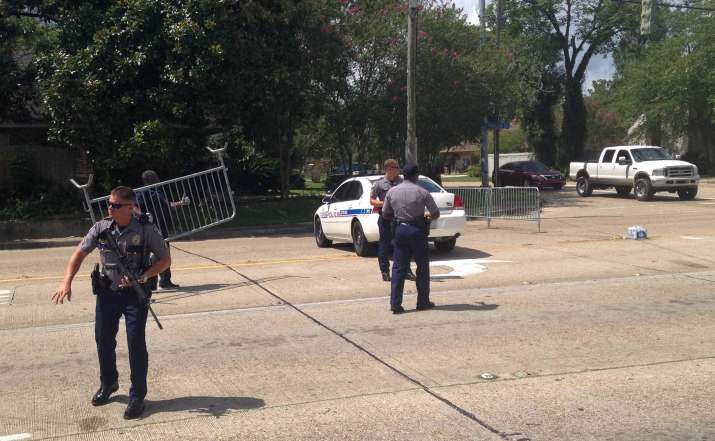 Louisinia: A former Marine dressed in black and carrying extra ammunition shot and killed three Baton Rouge law enforcement officers Sunday, less than two weeks after a black man was fatally shot by police here in a confrontation that sparked nightly protests that reverberated nationwide.
Gavin Eugene Long, a 29-year-old African American widely identified as the shooter by US media, turned his gun on police amid a spate of race-tinged violence involving law enforcement.
Louisiana State Police Superintendent Colonel Mike Edmonson told reporters the gunman was killed, and there are no suspects at large.
Long, who was black, served in the Marines from 2005 to 2010, reaching the rank of sergeant. He deployed to Iraq from June 2008 to January 2009, according to military records.
Although he was believed to be the only person who fired at officers, authorities were investigating whether he had some kind of help.
"We are not ready to say he acted alone," state police spokesman Major Doug Cain said. Two "persons of interest" were detained for questioning in the nearby town of Addis. They were later released without any charges being filed.
Three other officers were wounded, one critically. Police said the gunman was killed at the scene.
The shooting less than a mile from police headquarters added to the tensions across the country between the black community and police. Just days earlier, one of the slain officers had posted an emotional Facebook message about the challenges of police work in the current environment.
While in the military, Long was awarded several medals, including one for good conduct, and received an honorable discharge. His occupational expertise was listed as "data network specialist."
The University of Alabama issued a statement saying that Long attended classes for one semester in the spring of 2012. A school spokesman said university police had no interactions with him.
In Kansas City, police officers, some with guns drawn, converged on a house listed as Long's.
It was the fourth high-profile deadly encounter in the United States involving police over the past two weeks. In all, the violence has cost the lives of eight officers, including those in Baton Rouge, and two civilians and sparked a national debate over race and policing.
Authorities initially believed that additional assailants might be at large, but hours later said there were no other active shooters. They did not discuss the gunman's motive or any relationship to the wider police conflicts.
The shooting began at a gas station on Airline Highway. According to radio traffic, Baton Rouge police answered a report of a man with an assault rifle and were met by gunfire. For several long minutes, they did not know where it was coming from.
The radio exchanges were made public Sunday by the website Broadcastify.
Nearly 2½ minutes after the first report of an officer getting shot, an officer on the scene is heard saying police do not know the shooter's location.
Almost six minutes pass after the first shots are reported before police say they have determined the shooter's location. About 30 seconds later, someone says shots are still being fired.
The recording lasts about 17 minutes and includes urgent calls for an armored personnel carrier called a BearCat.
"There simply is no place for more violence," Gov. John Bel Edwards said. "It doesn't further the conversation. It doesn't address any injustice perceived or real. It is just an injustice in and of itself."
From his window, Joshua Godwin said he saw the suspect, who was dressed in black with a ski mask, combat boots and extra bullets. He appeared to be running "from an altercation."
Mike Spring awoke at a nearby house to a sound that he thought was from firecrackers. The noise went on for five to 10 minutes, getting louder.
Of the two officers who survived the shooting, one was hospitalized in critical condition, and the other was in fair condition. Another officer was being treated for non-life-threatening injuries, hospital officials said.