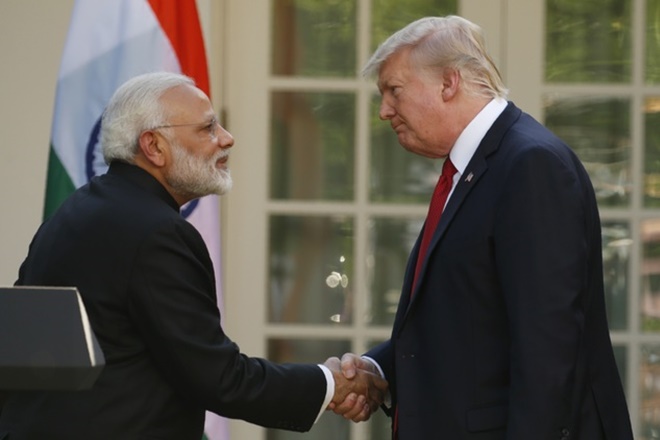 While believing that China has failed to restrain North Korea from expanding the reach of its nuclear arsenal, the United States has now turned its attention towards countries like India to do more to contain the reclusive nation.
According to a Times of India report, a US delegation from the State Department, which visited New Delhi this week, discussed how India could plug all exposure to North Korea. Among the "suggestions" to India are to limit and scale back its diplomatic engagement with Pyongyang.
This comes after North Korea tested a ballistic missile that it claims can reach all of the United States.
Following the missile test, US President Donald Trump ripped China for not reining in Kim Jong Un and his missile program.
"I am very disappointed in China," Trump wrote in a pair of Twitter posts. "...they do NOTHING for us with North Korea, just talk. We will no longer allow this to continue. China could easily solve this problem!"
India's exports to North Korea is about $110 million and in 2016, officials said, there was an over 30 per cent drop in bilateral trade. On the other hand, China, North Korea's largest trading partner, witnessed a rise in trade. 
Earlier this year, the Indian government also banned all trade (except food and medicines) with North Korea. The Modi government prohibited Indian citizens or companies from supplying to Pyongyang arms, any nuclear-related material or technology, or any other material that would enhance its ballistic-missile capabilities.
India's relationship with North Korea is a remnant of its non-aligned past. But in recent years, India has highlighted the proliferation problem from North Korea.
One of the main concerns for India has been the increased sharing of nuclear and missile technology between China, Pakistan and North Korea. 
The report cited sources saying that the US wanted India to help look for Pyongyang's activity in the Indian sub-continent, which could be illicit activity under the garb of legitimate trade and suspicious movements of its people.
With China and Russia reluctant on cooperating with the US against North Korea, Washington is now turning its attention towards its partners like Germany, France and India. 
At the recent G-20 Summit in Hamburg, which took place under the shadow of Pyongyang's ICBM test of July 4, sources said 18 out of 20 countries issued strong statements condemning the test.
India said it was a threat to international peace. "North Korea's continued pursuit of nuclear& ballistic missile programmes and proliferation links pose grave threat to international peace.
They also impacted India's national security, call upon North Korea to refrain from such actions that undermine international peace," MEA said.