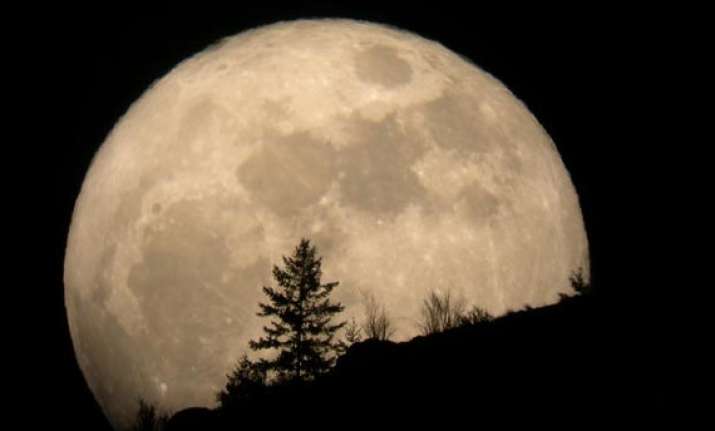 New Delhi, Jun 15: The Moon will come closest to Earth on June 23, and alarmists across the world are already up and about predicting natural disasters in its wake.
Some alarmists have moved the goalposts to within 1 or 2 weeks of a supermoon to suggest a causal relationship with specific natural disasters such as the 2011 Tōhoku earthquake and tsunami and the 2004 Indian Ocean earthquake and tsunami. 
However in both cases the Moon was actually farther from the Earth than average. No evidence has been found of any correlation with major earthquakes, say scientists.
Alarmists say, there had been instances of disasters relating to climate when the Supermoon occured in 1955, 1974, 1992 and 2005.
In 1955, floods devastated Hunter Valley resulting in death of several thousands of people. The same year Typhoon Danny took the lives of several hundred people in the US. In 1955, UK faced its worst typhoon ever.
In 1974, Cyclone Tracy nearly devastated the city of Darwin in Australia, resulting in death of several thousands of people.
In 1992, the supermoon brought severe earthquake in Turkey in which several hundred people died.  Two biggest earthquakers took place in the Californian desert in 1992.
In 2005, two weeks before the supermoon, a major tsunami wreaked havoc in Indonesia killing several thousand people.  The same year cyclone Katrina  played havoc with New Orleans.
Scientists however say, the combined effect of the Sun and Moon on the Earth's oceans, the tide, is greatest when the Moon is either new or full.
At lunar perigee the tidal force is somewhat stronger, resulting in perigean spring tides.
But even at its most powerful this force is still relatively weak causing tidal differences of inches at most. 
As the tidal force follows an inverse-cube law, that force is 18% greater than average.
However, because the actual amplitude of tides varies around the world, this may not translate into a direct effect. 
It has been claimed that the supermoon of March 19, 2011 was responsible for the grounding of five ships in the Solent in the UK, but such claims are not supported by scientific evidence.
List of Supermoos:
Moon Closest To Earth
Year Date Distance
2011 19 March 356,575 km
2012 6 May 356,955 km
2013 23 June 356,991 km
2014 10 August 356,896 km
2015  28 September 356,877 km
2016 14 November 356,509 km